Kamala Harris lands in Zambia as she winds up Africa tour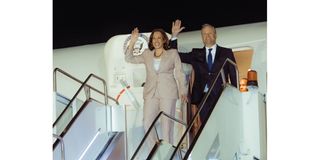 US Vice President Kamala Harris has landed in Lusaka, Washington DC's co-host of the just concluded second Summit on Democracy, as she embarks on the last leg of her week-long Africa tour.
Harris landed at Kenneth Kaunda International Airport a few minutes after 1300 hours CAT accompanied by US Second Gentleman Doug Emhoff, Treasury Secretary Janet Yellen among other senior members of President Joe Biden's administration.
Zambia is their last stop after visiting Ghana and Tanzania as Washington DC seeks to counter the growing political, military and economic influence of arch-rivals Moscow and Beijing.
According to State House, Lusaka, Harris is expected to hold bilateral talks with her host President Hakainde Hichilema before inking far-reaching bilateral agreements on climate resilience and food security.
Zambia Foreign Affairs Minister Stanley Kakubo says other issues to be discussed include access to the digital economy, economic empowerment of women and strengthening business investment through innovation and youth entrepreneurship.
For Harris, the Zambia tour is a walk down memory lane, quite literally, as she reconnects with her childhood memories in the southern African country.
At age five, she and her baby sister Maya crawled and played in the then fiery-red, copper-rich soils of Lusaka, in the late 1960s.
She stayed with her maternal grandfather, P. V Gopalan, a civil servant who had been dispatched by the Indian government to help Zambia manage an influx of refugees from Southern Rhodesia — current day Zimbabwe — which had just declared independence from Britain.