Puma reports 45 percent growth in jet fuel volume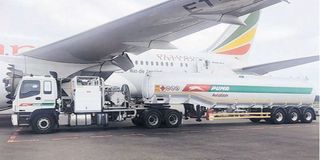 Summary
Puma Energy Tanzania said in a statement that jet fuel volume grew 45 percent year on year in 2022, nearing pre-Covid levels
Dar es Salaam. Tanzania's aviation industry is indeed on a smooth path to recovery, with the latest data showing a rebound in fuel consumption.
Puma Energy Tanzania said in a statement yesterday that jet fuel volumes grew 45 percent year on year in 2022, nearing pre-Covid levels.
The company operates aviation fuel stations in eight airports on Tanzania's mainland. In Zanzibar, the company said, the volume has increased by 43 percent year on year and has surpassed 2019 volumes. "The rebound in aviation fuel volume is an indication of renewed confidence in the tourism industry of Tanzania mainland and Zanzibar, and a reflection of a growing sense of optimism among industry stakeholders," the company said yesterday.
According to the statement, Puma Energy was investing to construct a new hydrant pipeline at the Julius Nyerere International Airport in Dar es Salaam and that it would also install digital systems at Abeid Amani Karume International Airport in Zanzibar to reduce delays and enhance service quality.
The statement quotes the general manager for Puma Energy Tanzania, Ms Fatma Abdallah as saying that the planned investment was a deliberate move to support the country's tourism, which is one of the key sectors of Tanzania's economy. "Tourism is a critical contributor to Tanzania's economic growth and our current and planned investment in state-of-the-art refuelling infrastructure and equipment across all airports in Tanzania has been critical as we work closely with the relevant authorities to support domestic airlines and encourage international airlines to increase the number of flights serving Tanzania," she said.
Currently Puma Energy operates a 2000 cubic metre Jet-A1 import terminal in Zanzibar and has invested in a new 900 cubic metre Jet-A1 tank at the airport and operates eight airports across Tanzania, ensuring supply security and international service standards.
Additionally, plans to install solar solutions across the airport depot will encourage the deployment of clean energy solutions on the island while simultaneously reducing the carbon footprint of Puma Energy's operations.
Since Puma Energy first established its presence in Zanzibar in 1995, the company has invested in infrastructure, vehicles and local staff development on the island to the value of Sh4.33 billion. In aviation, Puma Energy is a market leader in Tanzania across all eight airports and has invested in excess of Sh35 billion over the years to ensure the highest safety and operational standards.
Puma Energy works with various domestic airlines like Air Tanzania and international airlines including KLM, Ethiopian Airlines, Qatar Airways, Emirates, FlyDubai, Lufthansa Group and Airlink.