Tanzania to overtake Kenya as East Africa's largest economy in 10 years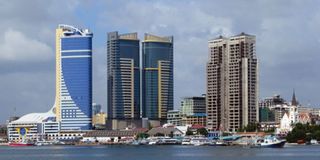 The race for economic supremacy in the East African region is set to take a more competitive twist as projections point to Tanzania overtaking Kenya in the next 10 years. 
According to the International Monetary Fund (IMF), Tanzania's economy, which now stands at $85.4 billion (Sh200 trillion), is set to grow into a $136 billion economy by 2028. 
In contrast, Kenya's economy, which is the largest in East Africa at $118.1 billion, will be a $151 billion economy by 2028. 
However, based on the economic outlook provided by the IMF and banking on the GDP growth trends of the two countries, Tanzania will outpace Kenya's economic growth and will have a larger economy in the next 10. 
Sub-Saharan Africa accounts for 46 of the continent's 54 countries, excluding giants such as Morocco and Egypt.
Nigeria remains the largest economy in the region with a GDP, in current prices, of $506.6 billion followed by South Africa ($399 billion), and Ethiopia ($156.1 billion).
GDP growth between Tanzania and Kenya
Kenya - 5.3% - Tanzania - 5.2%
Tanzania - 6.4% - Kenya - 5.4%
Tanzania - 6.5% - Kenya - 5.5%
Tanzania - 6.8% - Kenya - 5.5%
Tanzania - 7% - Kenya - 5.5%
Tanzania - 7% - Kenya - 5.5%