Harmonize cries foul and threatens to quit music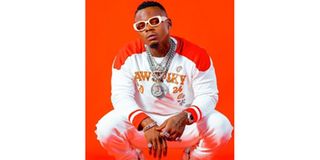 Summary
Harmonize opens up that he has not earned a single cent from his songs for close to seven years despite topping the East African charts at some point for releasing hit songs
Bongo Flava star Harmonize is looking for a new music distribution company and a publishing company after claiming that he has been mistreated in the music industry.
Harmonize opens up that he has not earned a single cent from his songs for close to seven years despite topping the East African charts at some point for releasing hit songs.
Disappointed Harmonize has now states that he might consider quitting music if that is what his oppressors want
"I know you can't believe this, but I have never collected 1 USD from publishing all the music that I have been dropping for over seven years.
"Over 100 hit songs remember. I own the master but I don't know who is collecting the money. I need them back because I have a kid. I'm here for her future and I need good life," writes Harmonize.
The Bongo star adds that he has been insulted and despised yet his money is still being consumed.
Harmonize continues that he has been forced to spend a lot of money to get back his master but he has still never received a cent from his songs.
The former Wasafi artiste pours out his heart that people who are doing this to him are evil and they even have the audacity of smiling before his face.
"These Ni*** can do bad and keep smiling on your face. I'm making an announcement you don't have money. I will quit music if that will make you happy," cries Harmonize.