Harmonize set to announce his new manager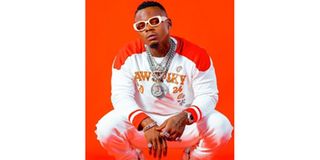 Summary
 Rumour has it that the new manager is actually Diamond Platnumz's other manager Sallam SK
Bongo Flava superstar Harmonize is set to announce a new manager after ending things with his fiancé Fridah Kajala.
Taking it to Instagram, Harmonize says he will reveal who gets to replace Kajala at his 'Harmonight Concert' on December 25, 2022.
Kajala and Harmonize got into a relationship in September 2020 after the bongo artiste broke up with his Italian ex-wife, Sarah Michelotti.
This is not the first time the duo has broken up. In April 2021, the couple had a dramatic breakup after Harmonize was accused of seducing Kajala's daughter, Paula.
After their breakup, Kajala blocked the musician on all platforms and for a year they both moved on with their lives.
However, in March 2022, the bongo singer launched a bid to reconcile and win Kajala back after breaking up with his Australian girlfriend Brianna.
He published countless posts asking for Kajala's forgiveness and crying for a second chance.
The Deka hitmaker not only tattooed his body but also bought two Range Rovers plus other lavish gifts for Kajala as part of the apology.