Prof Jay speaks out on his road to recovery for the first time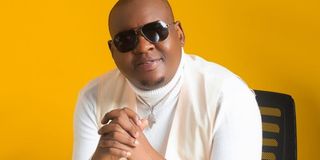 Dar es Salaam. Rapper, songwriter, and politician Joseph Haule, aka Prof Jay, has for the first time spoken to his fans and the public in general on the 127 days that he spent in the ICU at Muhimbili National Hospital.
The former Mikumi MP on the Opposition Chadema ticket, appeared on social media platforms on Wednesday after a prolonged period hospitalisation.
The hip-hop star, who began his music career in the mid-1990s, expressed his gratitude to President Samia for coming to his rescue during his ailment and funding his treatment both in and outside the country.
"In a special way, I am grateful to President Samia Suluhu Hassan and her government for paying for all my treatment in Muhimbili and outside of the country. I must admit that I was overwhelmed by the number of well-wishers," he writes in a social media post
"Chadema chairan Freeman Mbowe, members and senior leaders of the party, moreover, I am very grateful to all the doctors and nurses in Muhimbili Hospital and everywhere I went through for giving me high level treatment for more than a year that I was admitted at Muhimbili," he wrote.
He added: Especially during the 127 critical days when I was admitted to the ICU, you gave your best to ensure that you saved my life thank you very much.
He also thanked the Tanzanians who prayed for him and donated financial support, the media, his family, and, without forgetting, the clerics, pastors, and priests of the Catholic Church who led a special service to pray for him.
"Doctors treat, but God heals," Prof Jay told Mwananchi during an interview held shortly after he posted on social media, explaining his wellbeing and his road to recovery.
Prof Jay was admitted at Muhimbili Hospital in January 2022 in a critical condition, with his family calling for the public to raise funds for medical bills that had risen to the tune of Sh4 million per week.
It was then that President Samia announced that the government would take care of all his medical bills for the entire period of his treatment at the facility.
Professor Jay started rapping in 1999 as a member of the group Hard Blasters, best known for their chat topping hit single 'Chemsha Bongo' from their first album, "Funga Kazi". Only one year later, they won the title of best hip-hop group in Tanzania.
During his solo career, which started in 2001, he has released a number of hits, including "Nikusaidiaje" and "Zali la Mentali (feat Juma Nature)". Others include "Piga Makofi" and "Yataka Moyo".
 And just like Joseph Mbilinyi (Sugu), Prof Jay is among the pioneering hip hop musicians, who have remained relevant, despite influx of many new bidders.