Tanzanian artistes on US VP Spotify Playlist of African music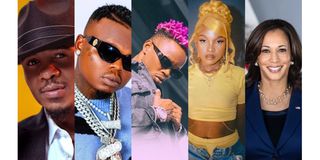 What you need to know:
In her playlist that features 25 songs, Kamala Harris did not include Tanzania megastar Diamond Platnumz
Dar es Salaam. The US Vice President Kamala Harris has released an official Spotify playlist of African music that features top 10 Tanzania artistes including Ali Kiba and Harmonize.
Other artistes featured in Harris' playlist are, Zuchu, Jay Melody, Mbosso, Jux, Marioo, Darassa, Abbah and Platform.
The playlist was meant to crystallise her current trip across the continent that kicked off on Sunday, where she arrived in Ghana on Sunday (March 26) for her first trip to Africa while in office, and will visit Tanzania on Wednesday and Zambia on Friday before returning to the U.S. on Sunday.
The playlist, titled "My Travels: Ghana, Tanzania, and Zambia," is live on the streaming platform, and is designed to "amplify the artists and sounds from my travels" across those countries, per its description.
VP Harris curated the playlist by featuring Ghanaian and Artists like Amaarae, Moses Sumney and Black Sherif; Tanzanian artists like Harmonize, Zuchu and Alikiba; and Zambian artists including Chile One Mr. Zambia, Yo Maps and Chef 187.
Upon her visit in Tanzania, Harris accompanied by her husband, Second Gentleman Douglas Emhoff, will meet with the Tanzania Startup Association and civil society representatives.
Also, Harris and her delegation will pay a visit to the National Museum of Tanzania (NMT).
Kamala's visit to Tanzania will advance efforts to expand access to the digital economy, support climate adaptation and resilience, and strengthen business ties and investment, including through innovation, entrepreneurship, and the economic empowerment of women.
Check out the full playlist below:
1. All My Cousins, "Act a Fool"
2. Moses Sumney, "Me in 20 Years"
3. T'neeya, "Pretty Mind"
4. Amaarae, "Reckless & Sweet"
5. Herman Suede, "Kumbaya"
8. Harmonize, "Single Again"
9. Chile One Mr Zambia, "I Love You"
10. Black Sherif, "Kwaku the Traveller"
11. Jux, Marioo, Papi Cooper & Tony Duardo, "Nice (Kiss)
16. Mbosso feat. Costa Titch & Alfa Kat, "Shetani"
17. Sarkodie feat. Black Sherif, "Country Side"
18. Platform Tz & Marioo, "Fall"
19. Darassa feat. Bien, "No Body"
20. Chef 187 & Blake, "Nobody"
21. Kuami Eugene & Rotimi, "Cryptocurrency"
22. Coolguy Pro, "Cherry"
23. Marioo & Abbah, "Lonely"
24. M3NSA, "Fanti Love Song"