Germany approves long-awaited Leopard tanks for Ukraine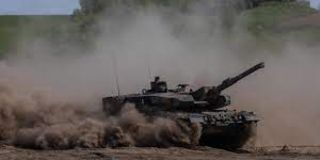 Berlin on Wednesday agreed to deliver powerful German-made Leopard tanks to help Ukraine repel Russia's invasion, a decision hailed by Kyiv and its allies but slammed by Moscow as "extremely dangerous". 
"The first step on tanks has been taken," said Kyiv, urging its allies to now build a "tank coalition".
"We need a lot of Leopards," the head of Ukraine's presidential administration Andriy Yermak said on social media.
Germany will provide a company of 14 Leopard 2 A6 tanks from its Bundeswehr stocks, government spokesman Steffen Hebestreit said.
It is also granting approval for other European countries to send tanks from their own stocks to Ukraine, with the aim of quickly assembling "two tank battalions with Leopard 2 tanks for Ukraine," he said. 
"This decision follows our well-known line of supporting Ukraine to the best of our abilities," Chancellor Olaf Scholz said. 
While scores of nations have pledged military hardware for Ukraine in recent weeks, Kyiv has been clamouring for the more sophisticated Leopard tanks, seen as key to punching through enemy lines.
Several other European countries, including Finland and Poland, have said they are ready to provide their stocks, but had required Berlin's approval to transfer the German-made armaments to a third party.
Polish Prime Minister Mateusz Morawiecki, who had vocally sought German approval to send on the tanks, thanked Berlin for the decision and called it "a big step towards stopping Russia".
"Together we are stronger," he said, as Britain and France also welcomed the announcement.
But Russia's ambassador to Germany Sergei Nechaev warned that the "extremely dangerous decision takes the conflict to a new level of confrontation, and contradicts statements by German politicians about the unwillingness of the German Federation to get involved in it".
- Soledar pullout -
Scholz, who had faced fierce accusations of dithering over whether to send the tanks, is taking questions in the Bundestag German parliament.
The Leopard 2 is seen as one of the best-performing tank models worldwide and is widely used across Europe, meaning spare parts and ammunition can be easily obtained.
Berlin will also offer to train Ukrainian forces to use the tanks in Germany, as well as providing logistics, ammunition and maintenance for the vehicles.
Germany did not specify the number of tanks in two battalions but for the Bundeswehr a battalion typically comprises of 44 tanks.
The Wall Street Journal has meanwhile reported that Washington was leaning toward sending a significant number of M1 Abrams tanks to Ukraine. 
The Kremlin warned Wednesday that if Western countries supply Ukraine with heavy tanks they will be destroyed on the battlefield.
"These tanks burn like all the rest. They are just very expensive," Kremlin spokesman Dmitry Peskov told reporters.
The Kremlin's warning came as a Moscow-backed official said Russian forces had advanced in Bakhmut, a town in eastern Ukraine that Russia has been trying to capture for months.
The Ukrainian military also conceded to AFP that its troops had pulled out of battle-scarred Soledar, to the northeast of Bakhmut.
Russian forces had claimed control of Soledar earlier this month. 
And Denis Pushilin, Moscow's top official responsible for Donetsk, said its capture "has now made it possible to block the enemy's supply routes and, in part, take under operational control areas" from which Ukrainians struck Russian positions.
Amid the fierce fighting in eastern Ukraine, Kyiv and several of its allies had been urging Germany for weeks to allow the delivery of the Leopards, but a US-led meeting of Kyiv's allies in Germany last week failed to yield a decision.
- 'Blatant provocation' -
Russia's ambassador to the United States, Anatoly Antonov, responded to reports about Washington potentially sending battle tanks by saying such a move would show "the real aggressor in the current conflict". 
"If the United States decides to supply tanks, it will be impossible to justify such step using arguments about 'defensive weapons'," he said, according to a post on the Russian Embassy's official Facebook page.
"This would be another blatant provocation against the Russian Federation." 
In a further show of international support for Ukraine, Japan's Prime Minister Fumio Kishida said Wednesday he is considering visiting Ukraine, after an invitation from President Volodymyr Zelensky.
"I will consider this in light of various circumstances and conditions," said Kushida, whose country is hosting this year's Group of Seven meeting.
However, Zelensky is battling a widening corruption scandal -- with his defence ministry shaken by allegations of food procurement fraud.
Local media reports last week accused the ministry of having signed a deal at prices "two to three times higher" than current rates for basic foodstuffs.
Several officials have resigned over the allegations.
Ukraine has a history of endemic corruption, including among the political elite, but efforts to stamp out graft have been overshadowed by the war.