JPM cancels party, pardons 4,000 inmates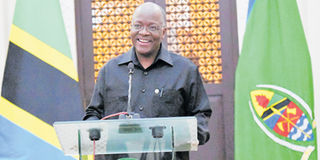 Summary
Over 4,000 inmates have been granted presidential pardon by President John Magufuli ahead of the 57th anniversary of Tanzania Mainland's Independence Day, which is commemorated on December 9.

He also cancelled expenses of the Independence Day celebrations, instead, he directed the money to be spent on construction of a new hospital in Dodoma, which will be named Uhuru Hospital.

Dar es Salaam. President John Magufuli announced yesterday that he has pardoned at least 4,477 inmates as part of this year's 57th anniversary of Tanzania Mainland's Independence Day celebrations.
The Mainland attained its independence on December 9, 1961.
The President said at least 1,176 inmates will be set free during the Independence Day while the rest will be released later depending on some conditions.
The President made the remark when addressing the nation through the state-owned television,Tanzania Broadcasting Corporation, (TBC).
"In compliance with the country's constitution, I also declare to reduce jail terms for inmates who have already served at least a quarter of their sentences," President Magufuli declared.
In addition, the President clarified that those who will be granted his clemency include adults, pregnant women and disabled inmates, to mention but a few.
Inmates serving life imprisonment, death sentence will not be granted the presidential pardon, according to him.
"Let us celebrate this year's Independence Day by preserving peace and security. I wish all Tanzanians a happy Independence Day in advance," he said.
Meanwhile, the President cancelled the costly Independence Day celebrations, which were to be held in Dar es Salaam and directed that the money (reportedly Sh995 million) that will be saved, be spent on constructing a new Hospital in Dodoma, which will be named Uhuru Hospital. He further expressed his optimism that the Uhuru Hospital will help reduce congestion of patients at regional and district health facilities.
"Demand of medical services will double due to an increase of population in the region following the government's decision to shift its offices to Dodoma," he said.