Kazaura dies in India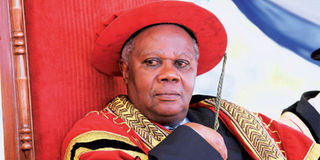 Summary
Kazaura was serving his second four-year term as chancellor of UDSM, after a reappointment by President Jakaya Kikwete in October 2011
Dar es Salaam. The chancellor of the University of Dar es Salaam Fulgence Kazaura has died. Kazaura passed away on Saturday night in Chennai India where he had gone for cancer treatment, according to a statement issued yesterday by the State House.
Kazaura was serving his second four-year term as chancellor of UDSM, after a reappointment by President Jakaya Kikwete in October 2011.
The UDSM administration has confirmed the death report.
"We have received the report but we cannot offer further details now," Prof Yunus Mgaya, UDSM Vice Chancellor (Administration) told The Citizen yesterday.
 Condolences messages started pouring yesterday.
President Kikwete mourned Kazaura, saying the nation has lost a prominent son, a talented and dedicated civil servant and a polished diplomat.
"Kazaura's dedication is demonstrated by the numerous positions he held within the government, the private sector and the academia," President Kikwete said in a statement.
A long time friend and ambassadorial colleague Mr Juma Mwapachu, also took to the social media to pay tribute to Kazaura.
"For all the years that I knew Fulgence, I found him to be a superbly intelligent person… and a charming friend," he said of the fallen diplomat in a message posted at the Michuzi Blog yesterday.
Kazaura worked at the National Development Corporation, as his first appointment after coming back from Cambridge University in 1965, according to Amb Mwapachu.
But he later served as a permanent secretary in several ministries, chairman of the boards of various government organisations including the Tanzania Audit Corporation and the Tanzania Electric National Company, Bank of Africa and the Tanzania Investment Bank.
He also served as Tanzania's ambassador to the EU and Belgium and later as an advisor to the President of the United Republic of Tanzania.
He also served as deputy secretary general of the East African Community after its re-establishment in 1999.
Burial arrangements were still being made, according to Kazura's son, Mr Sima Kazaura.