Michael Jackson producer Quincy Jones wins from estate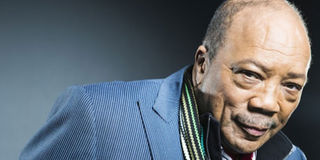 Los Angeles, United States . Quincy Jones, the legendary producer behind Michael Jackson's top hits, on Wednesday won $9.4 million in damages from the late superstar's estate over posthumous works.
A jury in Los Angeles sided with the 84-year-old producer but gave him only part of the $30 million he was seeking.
Jones has arranged songs for some of the biggest names in music including Jackson, producing his "Thriller" in 1982 which remains the top-selling album of all time.
The producer filed suit over the use of songs in "This Is It" -- a 2009 documentary about Jackson's rehearsals for a series of concerts in London that ultimately were never to be due to the star's sudden death -- as well as two Cirque du Soleil circus shows.
Jackson sued MJJ Productions Inc., one of the companies that runs the late King of Pop's estate, in 2013.
Jones said he had no quarrel with Jackson personally but that he had reached contracts in 1978 and 1985 that gave him first priority to Jackson's music, including maintaining the right to be the first to mix original recordings.
"Although this judgment is not the full amount that I was seeking, I am very grateful that the jury decided in our favor in this matter," Jones said in a statement.
"I view it not only as a victory for myself personally, but for artists' rights overall," he said.
Defense lawyer Zia Modabber had rejected Jones' arguments, saying that the original recordings belonged to Jackson alone.
"This is a grab for money that Mr. Jones isn't entitled to," Modabber said.
Another lawyer for MJJ Productions, Howard Weitzman, earlier told music magazine Billboard that the estate would likely appeal if Jones won a major sum.
Jackson's estate has been trying to monetize his legacy since his death but its success has been uneven, with the family notably giving up on preserving the late King of Pop's Neverland ranch.