Tanzania sheds light on sunken cargo ship in Iran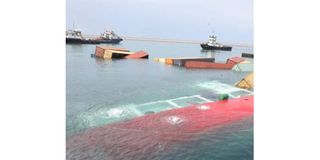 Summary
The ship named Anil under the flag of Tanzania, is owned by Mr Amir Kashiani of Iran under the recognised organisation dubbed 'Royal Classification Society'
Dar es Salaam. The government has spoken out about a Tanzanian-registered cargo ship that sank in a jetty in the southern Iranian port of Assaluyeh this week, saying the owner is making arrangements for salvage.
Zanzibar Maritime Authority (ZMA) director general Sheikha Mohamed told The Citizen on the phone that they received the information about the accident on Tuesday.
Ms Mohamed said that immediately after receiving the information, the authority ordered the marine casualty investigator from the Royal Classification Society based in the United Arab Emirates (UAE) to go to the scene and prepare a report.
"We have already received the preliminary report that shows the sinking of the ship was caused by improper loading of containers," she revealed.
"The ship owner is making preparations for salvage," she added.
Ms Mohamed said the ship named Anil, sailing under the flag of Tanzania, is owned by Mr Amir Kashiani of Iran under the recognised organisation dubbed 'Royal Classification Society'.
Recognised organisation is a classification company or other private body carrying out statutory tasks on behalf of a flag state administration, in this case, the ZMA.
The official IRNA news agency said the vessel overturned because containers on it were configured incorrectly at the port's dock No. 9.
Photos that circulated after the incident show the vessel sinking on its side with containers floating around it.
The port, which is the main hub for shipment of gas and petrochemicals produced in Iran and is located about 940 kilometers (580 miles) south of the capital Tehran, has more than two dozen piers.
Foreign media had reported that Iran and Tanzania do less than $100 million in trade per year.
Iran's imports and exports have slowed due to banking and oil sanctions imposed by the US after President Donald Trump in 2018 pulled America from a nuclear deal between Iran and world powers.
However, despite the sanctions, Iran and Tanzania seem to be continuing their trade ties. Just last year, Iranian Foreign Minister Hossein Amir-Abdollahian said that Iran and Tanzania would draw a roadmap to develop bilateral relations between the two countries in various fields.
He arrived in Tanzania after his trip to Mali.
The top Iranian diplomat was welcomed by his Tanzanian counterpart, the then Foreign Affairs minister, Liberata Mulamula, with whom he held talks before meeting other leaders.
"We are going to draw a road map in a conversation with the Foreign Minister of Tanzania about the development of bilateral relations in various dimensions, based on which we will accelerate the relations," he said.
According to Vessel finder, the 34-year-old vessel, which got into an accident while loading containers, arrived at Assaluyeh Port on Monday evening at 20:43Hrs.
IRNA said rescue teams transferred the ship's crew to safety.
It did, however, not elaborate.