Tanzanian cargo ship sinks in Iranian port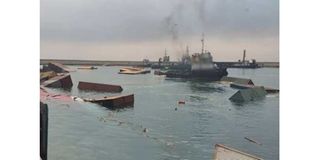 A Tanzanian cargo ship has on Tuesday January 24, sank  in a jetty in the southern Iranian port of Assaluyeh, Iranian state media has  reported.
The official IRNA news agency said the vessel named Anil overturned because containers on it were configured incorrectly at the port's dock No. 9.
The port has more than two dozen piers.
IRNA said rescue teams transferred the ship's crew to safety. It did not elaborate.
The ship which is owned by Caspian Gas since 2012 was built in 1989 and was previously owned by  Red Dragon.
According to Vessel finder the 34-year old vessel arrived at Assaluyeh Port on Monday  evening  at 20:43Hrs.
Tanzanian authorities are yet to comment on the accident.
The port is the main hub for shipment of gas and petrochemicals produced in Iran and is located about 940 kilometers (580 miles) south of the capital Tehran.
Iran's imports and exports have slowed due to banking and oil sanctions imposed by the U.S.