Why aviation soared in the first 10 months of 2022/23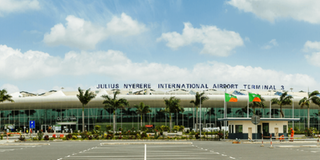 Dar es Salaam. Tanzania's aviation sector recorded impressive performance in the first ten months of the current financial year, thanks to a campaign to market Tanzania through the Royal Tour film, easing of Covid-19 restrictions and improvement in aviation infrastructure, safety and security.
Presenting his docket's 2023/24 budget proposals in Parliament yesterday, Works and Transport minister Makame Mbarawa said between July last year and April, this year, passengers carried by airlines increased by 164 percent compared to the previous financial year's corresponding period.
Quoting Tanzania Civil Aviation Authority (TCAA) data, Prof Mbarawa said during the period under review, passenger traffic increased from 1.748 million to 4.614 million.
Giving a breakdown of the figures, he said of the total number of passengers, domestic passenger traffic accounted for 57.24 percent, with international traffic bagging the remaining share.
Prof Mbarawa added that cargo handled during the period under review increased by 104.3 percent to 28,980.6 tonnes, with international cargo represented 85.6 percent of the total.
Aircraft movement, for its part, recorded a 114.9 percent increase to 152,449.
"An upward performance trend of the aviation industry suggests that the air transport business is becoming much stronger as Covid-19 cases, which culminated in a closure of global skies, are declining worldwide," Prof Mbarawa told Parliament.
He commended President Samia Suluhu Hassan for being a brainchild of the campaign to market Tanzania through the Royal Tour Film.
This, he underscored, has significantly contributed to marketing the country's tourism attractions and eventually taking up a number of tourists, whose major mode of transport is aviation.
Precision Air managing director Patrick Mwanri recently attributed the current positive aviation performance to the opening up of the global market after almost two years of lockdown and travel restrictions.
"All countries have now opened up their borders and eased the travel restrictions, which allowed more passengers to travel freely," Mr Mwanri told The Citizen through a WhatsApp chat late March 2023.
Speaking to The Citizen late March this year, Swissport Tanzania chief executive officer Mrisho Yassin appreciated the ATCL's growth, saying it is driving the sector's figures.
Going by the 2021/22 financial year data from TCAA, ATCL is a market leader with 53.1 percent followed by Precision Air at 22.9 percent.
Auric Air Services with 10.3 percent, Flight Links with 2.6 percent and Coastal Travel Ltd with 2.5 percent came third, fourth and fifth place, respectively. Others shared 8.6 percent.
According to Prof Mbarawa, passengers carried by ATCL between July last year and April this year increased by 37 percent to 905,905.
This is in comparison to 660,766 passengers recorded during the same period in the previous financial year.
Out of ATCL's passenger traffic registered in the first 10 months of this financial year, 682,154 were domestic ones, with foreign passengers accounting for the rest.