Azam FC, Dodoma Jiji face off in Azam Federation Cup today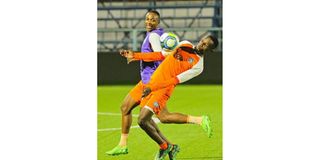 Summary
The record shows that since Dodoma Jiji FC's promotion to the Mainland Premier League in 2020, they are yet to record victory over Azam FC
Dar es Salaam. Azam Football Club, one of the big guns in the country, today at 7pm will be facing a challenging task against Dodoma Jiji FC in the Azam Federation Cup encounter at the Azam Complex in Dar es Salaam.
Other matches today, according to the Tanzania Football Federation (TFF)'s fixture, are between Polisi Tanzania and JKT Tanzania at the Ushirika Stadium in Moshi, Gwambina FC and Pan African at the Nyamagana Stadium in Mwanza.
Also, Green Warriors will be hosting Mbuni FC at the Isamuhyo Stadium and Mtibwa Sugar will be taking on Buhaya FC at Turiani's Manungu Complex in Morogoro.
The matches are very important to all the teams, targeting victory in order to advance into the best 16 teams in the competition.
However, all eyes and ears will likely be directed at the Azam Complex, where Dodoma Jiji FC will target to revenge against Azam FC.
The record shows that since Dodoma Jiji FC's promotion to the Mainland Tanzania Premier League in 2020, they are yet to record victory over Azam FC.
The Dodoma-based team just managed to record a 2-2 draw on April 22, 2021 at the Jamhuri Stadium. This means Azam FC managed to win four out of five matches they played.
In last year's Mainland Tanzania Premier League match held on November 9 at the Azam Complex, Azam FC recorded a 2-1 victory over Dodoma Jiji FC.
Azam FC Information Officer Thabit Zakaria alias Zaka Za Kazi said all his players are in top form and ready to face Dodoma Jiji FC in the encounter.
He said there is no injuries in their squad, adding that the team's head coach, Dani Cadena, will have the best choice of his players in the match.
"Our main target is to sail through the next stage of the competition, but we need to stretch our muscles as Dodoma Jiji FC are a strong team that played well in their last match against Simba, despite a 1-0 loss," said Zakaria.
Dodoma Jiji assistant coach Kassim Liyogope said they have prepared well for the encounter and are targeting victory.
"We have trained well and my players are in good shape. We are aware that we are going to face one of the tough teams in the competition, but we are ready to face the challenge as our aim is to kick them out of the competition," said Liyogope.