Mwakinyo to vie for WBF belt after TKO victory
Sunday November 15 2020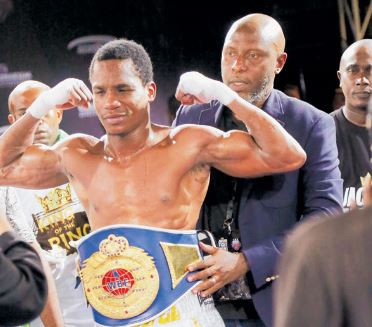 Dar es Salaam. The country's prominent professional boxer, Hassan Mwakinyo, will now fight Lasha Gurguliani of Georgia for the World Boxing Federation (WBF) super welterweight world title after his technical knockout (TKO) win against Jose Carlos Paz of Argentina.
Mwakinyo registered the TKO victory in the fourth round after landing a flurry of jabs and combinations on his opponent, forcing the bout referee Edward Marshall to intervene and stop the fight to save Paz from punishment after he had failed to respond to punches. Marshall stopped the fight in 1.27 seconds.
Earlier, WBF president Howard Goldberg announced that Mwakinyo's victory in the fight will enable him to challenge Gurdguliani for a title fight scheduled to be held within three months depending on the availability of a promoter.
Speaking after the fight, Mwakinyo admitted that Paz was a strong challenger, but his training ahead of the fight made him win by TKO.
"I trained well ahead of the fight. This is because I observed my opponent in the game and decided to camp in Tanga's Magoroto, where it is very cold. I trained more than 12 rounds with my coach Hamis Mwakinyo, who is my brother," said Mwakinyo.
Paz conceded the defeat, saying Mwakinyo is a very strong boxer while Jackson Group Sport managing director Kelvin Twissa congratulated the boxing fans who attended the fight to support Mwakinyo.
Twissa said his firm will continue to organise high class fights in the country aiming to develop the game in the country.
In another match, Kenyan boxer Fatuma Zarika won the WBF featherweight world title after outpointing Zimbabwean boxer Patience Mastara of Zimbabwe.
Zarika scored 97-93 points from judges Anthony Rutta, Pendo Njau (98-92) and Ibrahim Kamwe (98-92). Also Zulfa Macho won on points against Zambian Alice Mbewe in the six round fight.
Zulfa scored 59-56 points from judge John Chagu, Ibrahim Kamwe (58-56) and Anthony Rutta (59-55).
In the another fight Hussein Itaba of Tanzania drew against Alex Kabangu of DR Congo in super middleweight bout.
_________________________________________________________________
By Majuto Omary @majutoy2k [email protected]