Coastal Union head coach confident of defeating Simba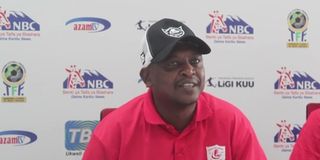 Summary
The two teams will clash at the Mkwakwani Stadium tomorrow at 4pm. It will be the 18th time that the two teams meet in the Mainland Tanzania Premiership
Dar es Salaam. Coastal Union head coach Yusuph Chipo says his side is ready for a revenge against Simba in the Mainland Tanzania NBC Premier League match tomorrow.
The two teams will clash at the Mkwakwani Stadium in Tanga tomorrow at 4pm, It will be the 18th time that the two teams meet in the Mainland Tanzania Premiership.
Records show that Coastal Union have won only one match out of 18 while Simba have managed to win 11 games and six ended in a draw.
Chipo said he managed to win 1-0 over Simba on March 23, 2014 at the Benjamin Mkapa Stadium in Dar es Salaam and he is now facing the team for the second time as a coach.
In the last match played at the Mkwakwani Stadium on April 7, 2022, Simba won 2-1 with their goals being scored by Benard Morrison and Meddie Kagere.
Coastal Union's goal was netted in by Victor Akpan.
However, Morrison and Kagere are no longer Simba's players while Akpan has joined Simba.
Chipo said his players are in top form and all the mistakes made in their previous matches have been rectified and they are now ready to do their best.
"I have seen Simba play various matches at the Benjamin Mkapa Stadium and at other stadiums. I have seen the team's players, whom I know their strength and weaknesses, technically and tactically, I am ready to show our prowess although I am still sharpening my squad," said Chipo.
He said his players are doing fine in training, adding that by the time they host Simba, they will be fit enough.
"I am aware that we lost twice in three matches. It was a lesson that we need to learn. I know that it is not going to be easy because Simba are also on record as a good team," he said.
Meanwhile, Simba head coach Juma Mgunda has cautioned his players about not underestimating Coastal Union in the encounter.
"I predict it is going to be a tough match despite the fact that I trained Coastal Union.
"I am now out of the team and now I just want to call upon my players to take the match seriously so that we can come out with a good result," said Mgunda.