Do us proud, sports director challenges Yanga, Simba SC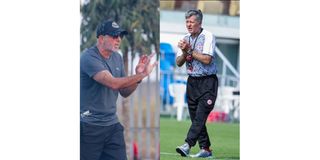 Summary
Simba will host Horoya AC tomorrow at the Benjamin Mkapa Stadium in Dar es Salaam from 7pm in the CAF Champions League match while Yanga will be in action on Sunday against US Union Sportive Monastirienne of Tunisia in the CAF Confederation Cup encounter
Dar es Salaam. Simba and Young Africans (Yanga) players have been urged to play with determination in their crucial continental Africa Club championships over the weekend.
The call has been made by Director of Sports Development in the country Ally Mayay during an exclusive interview with The Citizen yesterday.
Simba will host Horoya AC tomorrow at the Benjamin Mkapa Stadium in Dar es Salaam from 7pm in the CAF Champions League match while Yanga will be in action on Sunday against US Union Sportive Monastirienne of Tunisia in the CAF Confederation Cup encounter.
The giants need victory in order to qualify for the quarterfinals of the competitions. Simba are now second in group C with six points while Yanga are second in Group D with seven points. Simba's victory over Horoya AC will automatically make them qualify for the quarterfinal leaving Horoya AC in the third slot with four points. Raja Club Athletic of Morocco have already qualified for the quarterfinal stage after collecting 12 points. Also, in the group are Uganda's Vipers who have so far collected one point.
Yanga are in the second position with seven points and victory will make the Jangwani Street giants sail through to the quarters. Arithmetically, Yanga, TP Mazembe and Real Bamako have the chance of holding the second position that will enable them to join Union Sportive Monastirienne. Mayay said both Simba and Yanga are facing teams that recorded victories at their home grounds. Simba lost 1-0 in Conakry, Guinea, while Yanga were defeated 2-0 in Tunis. "I watched both matches and all the goals were scored through dead balls. Simba defenders failed to stop Pape Abdou N'Diaye's header while Yanga allowed the Tunisian side to score via high balls. I hope the coaches of both teams have rectified the mistakes they made in their first matches and now focus on victories," said Mayay. He explained that the coaches have to work on high balls as Horoya AC and Union Sportive Monastirienne usually score through that way.
"It is crucial matches and players must be very keen throughout the games. Draws will not put them in safe place at all," he insisted.
Meanwhile, the Confederation of African Football (CAF) has named Egyptian referees to officiate the CAF Champions League encounter between Tanzania's envoys, Simba and Horoya AC of Guinea.
According to CAF's statement, the referees are Mohammed Adel who will be at the centre and assisted by Mohamed Taha and Mohamed Salah Abdelfatah while Mohamed Maarouf Eid Mansour will be the fourth official. On Yanga's encounter, Chad's referee Alhadji Allaou Mahamat will be at the centre while Bogola Issa and Issa Yaya, both from Chad, will be his assistants.
The match's fourth official is Pousri Armi Alfred.