Hopes high as Stars face Niger in World Cup qualifier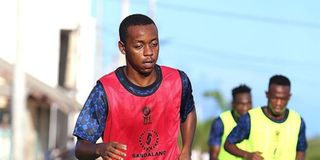 What you need to know:
The group E match has been scheduled to kick off at 7pm Tanzanian time and Taifa Stars will be targeting a good result
Dar es Salaam. The national football team (Taifa Stars) today face Niger in the first leg of the World Cup qualifiers at the Grand Marrakech Annex 1 in Morocco.
The group E match has been scheduled to kick off at 7pm Tanzanian time and Taifa Stars will be targeting a good result in order to start well their qualification for the FIFA World Cup that will be co-hosted by three different countries for the first time in history.
The countries are Canada, Mexico and the USA that are set to share hosting duties in the ground-breaking edition of the sport's greatest event. Tanzania are seeking to qualify for the World Cup finals for the first time in their history as they are going to meet Niger for the third time in their history.
Records show that Tanzania managed to win 1-0 in the Africa Cup of Nations (Afcon) qualifiers at the Benjamin Mkapa Stadium in Dar es Salaam and recorded a 1-1 draw in their away encounter. Taifa Stars players are optimistic about coming out with a good result in today's encounter after training intensively. The team head coach, Adel Amrouche, said his players are in the right frame of mind heading into the match to maul their opponents.
"Everything is okay in camp as every player is eager to face Niger. They are simply in good shape and I believe we will come out with smiling faces," said Amrouche.
Team captain Mbwana Samatta was confident that they will be taking the encounter seriously, promising fans with victory. Samatta said they do not underestimate their rivals in the encounter due to the fact that they are also a good team.
He said they defeated them in the Afcon qualifiers, but, he added, that do not guarantee them to win the game. "We are meeting in a different tournament, so even tactical and technical approaches will be different. They know us and we know them, let's expect a tough encounter," said Samatta.
Samatta said Niger will likely be targeting to take revenge on them, a situation that will make them (Stars) be very keen throughout the match.
Stars striker Simon Msuva, who features for JS Kabylie of Algeria predicted a tough encounter, but said they are ready to face the challenge. Msuva called upon fellow Tanzanians to give them support since they are representing the country in the competition.
"We are aware of our commitment and that's why we are here to represent them in the encounter. There are many Tanzanians behind us and we call upon them to give us moral support," said Msuva.