Kenya's Kipchoge wins a record fifth Berlin Marathon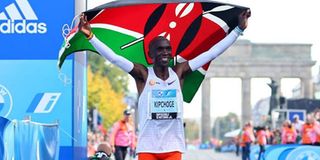 What you need to know:
The victory marks Kipchoge's fifth triumph in Berlin, adding to his previous wins in 2022, 2018, 2017, and 2015.
Berlin. Kenya's Eliud Kipchoge secured his fifth Berlin Marathon victory on Sunday by completing the 42-kilometre race in an impressive two hours, two minutes, and 42 seconds.
During the race, Kipchoge, who is also the world marathon record holder, left Ethiopia's Derseh Kindie behind at the 32-kilometre mark to run solo to the finish line.
This victory marks his fifth triumph in Berlin, adding to his previous wins in 2022, 2018, 2017, and 2015.
With this fifth title, Kipchoge now stands as the most successful athlete in the history of Berlin Marathon, surpassing Ethiopian legend Haile Gebrselassie, who has four titles to his name.
Before the race, much of the discussion revolved around Kipchoge's attempt to break his own world record of 2:01:09, set in Berlin the previous year. The leading pack appeared on track to challenge the record as they passed the halfway mark in 60:22.
However, at the 30-kilometre mark, it became evident that Kipchoge's record was safe, as they were running at a pace of 2:01:30, approximately 21 seconds slower than the world record.
After distancing himself from Kindie, Kipchoge took full control of the race, ultimately finishing first. His compatriot Vincent Kipkemboi, in his impressive marathon debut, secured second place with a remarkable time of 2:03:13.
Another debutant, Tadese Takele of Ethiopia, achieved a stellar personal best time of 2:03:24, securing the third position in the race.