Tanzania junior golfers jet off to Uganda for All Africa event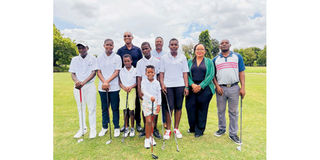 Summary
The golfers, who left the country aboard Uganda Airlines, are Shufaa Twalib, Sabrina Likuli and Juliana Kowaku, who will feature in the female category while male golfers are Ibrahim Gabriel, Aliabbas Kermali, Karim Abdallah and Ramadhani Matinga
Dar es Salaam. Tanzania's national junior golf team players have departed for Kampala in Uganda ahead of the All Africa Junior Golf Championships to tee off on April 17 to 21.
The golfers, who left the country aboard Uganda Airlines, are Shufaa Twalib, Sabrina Likuli and Juliana Kowaku, who will feature in the female category while male golfers are Ibrahim Gabriel, Aliabbas Kermali, Karim Abdallah and Ramadhani Matinga.
Also, in the trip are head coach Athuman Chiundu, who is also the junior coach of Lugalo Golf Club and female coach Madina Idd.
Other officials, who have accompanied the team, are Danstan Kolimba, Maryanne Mugo and Naftali Ayonga.
Speaking with The Citizen, Shufaa Twalib said they will not let Tanzanians down in the championships take place at the Lake Victoria Serena Golf Resort and Spa Course.
She said they have prepared well for the competition and their target is to do their best. She said they are training for not less than 10 hours per day and are happy with the improvement they have shown so far.
"Our training includes running for 1.5 kilometres per day, putting, making long shots and later practising in 18 holes.
"We have managed to improve so far," said Shufaa.
Tanzania are among 17 countries that have so far confirmed to feature in the competition.
Other countries expected to compete in the event are Kenya, South Africa, Morocco, Egypt, Zambia, Gabon, Mauritius, Sierra Leone, Namibia, Zimbabwe, Tunisia, Senegal, Ivory Coast, Botswana, Malawi and the hosts Uganda.