Yanga may pocket about Sh11bn in total from various cash prizes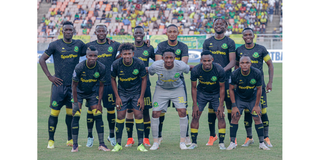 Dar es Salaam. Young Africans SC (Yanga) are likely to pocket about Sh11 billion in total as cash prizes if they clinch the CAF Confederation Cup title.
Yanga have qualified for the final of the CAFCC against USM Alger of Algeria with the first leg set to be played on May 28 at the Benjamin Mkapa Stadium and the return leg in Algiers on June 3.
The winners of the final will take home $2,000,000 (Sh4.7 billion) while the runners-up will pocket $1,000,000 (Sh2.4 billion).
So far Yanga have the assurance of pocketing Sh100 million for winning the Mainland Tanzania NBC Premier League title and Sh500 million bonus from Azam Media as per the contract signed with the Tanzania Football Federation (TFF).
Besides that, Yanga have the assurance of receiving Sh3.1 billion from Azam Media Limited as per the 10 year-contract worth about Sh41 billion signed between the two parties.
The Jangwani Street men will also receive Sh150 million from their main sponsor, SportPesa, and Sh1.2 billion ($500,000) from CAF for qualifying the semifinal of the Confederation Cup.
Yanga have also received Sh826 million from CAF for advancing to the quarterfinal of the CAF Confederation Cup. Yanga's cash prizes exclude those offered by President Samia Suluhu Hassan for every goal scored.
There are also bonuses from the team's other sponsors namely, Hier, GSM and more others, whose amounts are yet to be known.
 Yanga are also targeting to play the final of the Azam Federation Cup as they face Singida Big Stars tomorrow at the Liti Stadium in Singida.
 If they beat Singida Big Stars and win the final match against Azam FC, they will pocket Sh50 million to be added to their cash prizes they have collected this season.
Arithmetically, Yanga can collect not less than Sh11 billion if they win the CAF Confederation Cup title and not less than Sh8 billion if they do not clinch the title.
Meanwhile, Yanga arrived yesterday from South Africa and today travel to Singida ahead of the second semifinal tie of the Azam Federation Cup against Singida Big Stars.