Yanga players ready for USM Alger revenge in CAF Cup final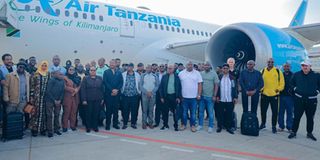 What you need to know:
The Tanzanian side need a 2-0 victory in order to be crowned champions
Dar es Salaam. Young Africans (Yanga) players have promised to fight hard in the return leg of the CAF Confederation Cup final and reverse the result against USM Alger tomorrow in Algiers, Algeria.
Yanga, who will meet the Algerian side at the Stade du 5 Juillet 1962 from 10pm Tanzanian time, left the country yesterday aboard Air Tanzania Ltd's Boeing 787-8 Dreamliner courtesy of President Samia Suluhu Hassan.
The Tanzanian side need a 2-0 victory in order to be crowned champions. If the team win 2-1, the match will go into an extra 30 minutes. If they still tie, then it will be decided on penalties. In the first leg, held at the Benjamin Mkapa Stadium in Dar es Salaam, Yanga lost 2-1.
Yanga's captain Bakari Mwamnyeto said although they face a tough assignment, their experience of playing and winning away matches make them confident of emerging victorious in Algiers.
Mwamnyeto said he and teammates are in high morale and ready to deliver their best in the encounter to be officiated at the centre by Dahane Beida of Mauritania and assisted by Jerson Dos Santos of Angola and Arsenio Marengula of Mozambique. Sudanese Mahmood Ismail will be the fourth official. He said they know what Tanzanians need from them in the return leg.
"We know how tough the match will be, and we need to score not less than two goals. To us, there is no home ground advantage; we will play our normal football and believe we will reach our target," said Mwamnyeto.
According to Mwamnyeto, USM Alger are a tough team, but Yanga have managed to win over the best teams at away venues.
"We have won over Club Africain, Rivers United and TP Mazembe. The level of each team is different and we managed to record away victories. We know that USM Alger have home-ground advantage, to us that is very different, we can score at any venue," he insisted.
The tournament's leading scorer, Fiston Mayele, called on Tanzanians not to get discouraged, saying they are going to reverse the result in Algeria. Mayele, who has so far scored seven goals to be at the driver's seat, insisted that they are going to take revenge on USM Alger and make history in the country.
"We are going to fight till the last drop of sweat in Algeria. We call upon all Tanzanians to pray for us in order to achieve our goals," said Congolese Mayele.