A sour taste creeps into Kenyan tea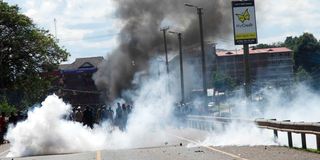 What you need to know:
East Africa seems to be in the early beginnings of militant contestation over natural resources.
This week, Dutch multinational Ekaterra Tea Company suspended its operations in Kericho, Kenya's South Rift region, after militant residents invaded two of its estates and burnt mechanical tea pickers, harvesters and a tractor.
The company said its 16,000 employees would only report to work once the security situation is stabilised.
The Daily Nation reported that large tea producers in Kericho, Bomet, Nyamira and Nandi counties would also scale down their operations until adequate security measures were in place.
It quoted Kenya Tea Growers Association (KTGA) chairman Silas Njibwakale as saying darkly that there had been a notable escalation in insecurity in the tea estates with the breakdown of law and order severely disrupting business operations, thus hampering the growth of the tea sector.
"What started in October 2022 with daylight raids and theft of tea leaves and machinery has now escalated to organised attacks on business premises and deliberate destruction of critical assets," said Mr Njibwakale.
Police officers have been seriously injured in recent months as they dispersed residents who invaded the estates of Ekaterra and another multinational, James Finlay's, to steal green leaves. Kericho Governor Erick Mutai's motorcade was pelted with stones when he intervened.
Politicians have been accused of inciting Kericho residents against the massive tea plantations during last year's election campaigns with promises that they would help them to reclaim some of the lands. However, the crisis was fully on show 15 years ago, during the post-election violence (PEV) that followed the disputed December 2007 elections in which 1,400 people were killed and 350,000 displaced.
At that time, the more dry-eyed analysts, storytellers and documentary makers who studied the wreckage of the violence, which was mostly concentrated in the Rift Valley, partly blamed it on the tea plantations. They said the plantations had so much land, acquired in the colonial and immediate post-independence periods, leaving the local people "packed like sardines in ghettos" in dry patches of land.
Local militancy
With the increasing population, combined with the deterioration in the environment, they warned of local militancy that would seek to seize tea plantations for the people's livelihood and bring with it levels of pillage way beyond what was witnessed by the tea firms during the PEV.
The government, and the national economy, are now caught between a rock and a hard place. Expropriating the plantations might be good for short-term electoral politics but disastrous economically. Indeed, Njibwakale said, "We appeal to the President (Dr Ruto) to intervene and restore order, protect local and foreign investments and avoid a situation where Kenya loses its international tea market niche."
Times have changed. In the aftermath of Covid-19 and the squeeze brought by the Russian invasion of Ukraine, economies squeezed by high dollar interest rates, and mounting debt, many developing countries are desperate and offering foreign investors incredible sweetheart deals.
Njibwakale spoke in the company of Slyvia Ten Den, the Ekaterra managing director for Kenya, Tanzania and Rwanda. She would have been aware that Rwanda, and President Samia Suluhu Hassan's Tanzania, would gladly snap up Ekaterra at the first chance, not to mention Uganda.
Yet, in some of these countries, they too will be aware that the politics of land has become more fraught. President Hassan's government just concluded negotiations with an energy consortium for a $40 billion liquefied natural gas export project.
The project had been delayed by the John Magufuli government and was pulled back on its feet after he died in 2021. However, even in famed "peace-loving" Tanzania, the government will deploy the army to guard the LNG project. Uganda has deployed thousands of troops to guard its 1,443-kilometre crude oil pipeline being built to the Tanzanian port of Tanga.
East Africa seems to be in the early beginnings of militant contestation over natural resources (minerals, land, fish) that, in Nigeria, saw extensive sabotage of the crude oil pipelines by saboteurs, rebel groups and locals stealing the oil to process in bush refineries and sell to the local markets.
The process is more advanced in Kenya, where a version of it has been witnessed in the farm invasions in Laikipia (mostly owned by white folks). Zimbabwe, during President Robert Mugabe's rule, had a violent seizure of white-owned farms.
In Zimbabwe, it was not the fairytale ending that nationalists had hoped for. The farms collapsed in the people's hands and its agriculture cratered. The backlash on world financial markets was brutal. A cash-strapped Zimbabwe has been borrowing and scrapping together billions of dollars to compensate the white farmers.
It's hard to see how this ends in a win-win for everyone. Maybe technology could come to the rescue. It is possible to produce higher-yield tea, on smaller land parcels, with chunks freed for redistribution to the people. But that might be one of those things that are easier said than done.
Mr Onyango-Obbo is a journalist, writer and curator of the "Wall of Great Africans". @cobbo3