President Samia to meet all Tanzanian ambassadors in Zanzibar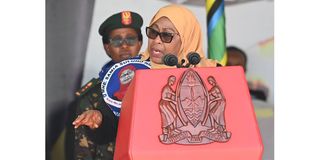 All envoys representing Tanzania in different parts of the world will on November 14 meet President, Samia Suluhu Hassan - the first time the Head of State will meet all 45 diplomats in one sitting.
The ambassadors will meet President Samia and President Hussein Mwinyi in Zanzibar.
The meeting, slated to take place from November 14 - 21 in Zanzibar, will kick-off with a closed door session between the Ministry of Foreign Affairs and the ambassadors.
Speaking to Editors at the Foreign Affairs and East African Cooperation office in Dar es Salaam, the ministry's head of communication addressed the media on behalf of Minister Stergomena Tax, stating the agenda of the scheduled meeting between Ambassadors and the President.
"The meeting aims to promote economic diplomacy, a strategic approach under the 6th phase government," said Ambassador Mindi Kasiga, Director of Communications at the Foreign Affairs Ministry, adding that during the late President Magufuli's time he met with the diplomats twice, once as Chair of Sadc.
Tanzania has 45 ambassadors around the world, and five General Consulates in Mombasa, Lubumbashi, Jeddah and Dubai.
 However, embassies in US (New York), Switzerland (Geneva), and Ethiopia (Addis Ababa), have two ambassadors each, with one holding the position of Chief of Mission, and other identified as Deputy Chief of Mission.