I skip foreign trips to save money, Magufuli says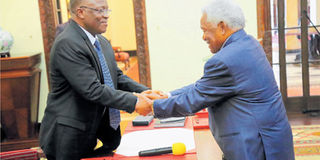 Summary
President Magufuli has said his move to skip foreign trips has enabled the country to save a lot of money, noting that sending his representatives is more economical than if he would have been attending with his delegation.

He is waiting to see major reforms at the ministry of Foreign Affairs and East African Cooperation, saying he has not been much impressed by the ministry is performing.

Dar es Salaam. President John Magufuli has reiterated the importance of his reluctance to travel abroad, saying the move was enabling the country to save a lot of money.
He said, in all meetings and summits that he didn't attend, he was well represented by the minister of Foreign Affairs and East African Cooperation, Dr Augustine Mahiga.
Dr Magufuli made the statement yesterday at State House in Dar es Salaam shortly after he swore in permanent secretary in the ministry of Foreign Affairs, Dr Fariji Mnyepe and Chief Scout Mwantumu Mahiza.
On the same occasion, President Magufuli thanked Dr Mahiga for representing him well in the international arena.
"Sending the President and his delegation to an international summit is much more expensive than letting the minister and his assistant attend.
"In fact, Dr Mahiga is doing a great job. He has just arrived from the US where he was attending the United Nations (UN) Summit," he said.
The President ordered Dr Mahiga to embark on major reforms in the ministry to improve its efficiency.
Speaking during the live televised event, President Magufuli said reforms should efficiently address challenges facing the ministry and suggested that it was probably difficult to address them because of the minister's frequent journeys abroad or due to lack of good assistants.
"I can see the directors here... some of them are very good people... but, perhaps, some of them are used to the docket. Make sweeping changes in the ministry as there are vacant positions in other ministries," he ordered.
Earlier, Dr Mnyepe vowed to deepen Tanzania's socioeconomic ties with other countries.
He said, he was aware of the challenges and areas he would have to work on at the ministry, assuring the President of hard work and adherence to laws and guidelines.
"I have listened careful all the instructions that you (President Magufuli) issues over the weekend, and I assure Tanzanians to work tirelessly," he said.
The Head of State directed Dr Mnyepe to put into practice the theories that he mentioned in his speech, noting that sometimes people found it difficult to translate into action the theories and knowledge they possessed.
According to Dr Magufuli, he has not been impressed by the Foreign Affairs ministry that is why he decided to make changes.
Dr Mnyepe becomes the third PS to work with the Foreign Affairs ministry since the fifth phase government took office in November 2015.
Other PS's who had served the ministry under President Magufuli's Administration are Dr Aziz Mlima who is currently a Tanzania's high Commissioner to Uganda and Prof Adolf Mkenda who has been transferred to the Ministry of Natural Resources and Tourism.