Open University hasn't been permitted to offer foundation courses, govt says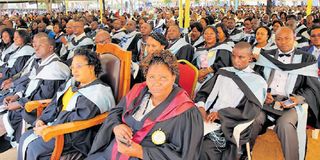 Dar es Salaam. The government has refuted rumours that it has permitted the Open University of Tanzania (OUT) to continue offering foundation courses.
The rumours have gone viral on social media, citing that the permission was issued by Prime Minister Kassim Majaliwa on Thursday November 30 at the 33rd OUT graduation held in Singida.
According to a statement released on Friday, December 1, Mr Majaliwa says the government is reviewing the Education Policy, 2014.
"The government is reviewing the education policy to set a clear framework on how the youth can acquire higher education through distance learning," reads part of the statement.
"Some of foundation programmes, which have been mentioned by the Vice Chancellor need to be clarified in the policy and as I'm speaking our experts are on it," he said.
The Premier said after completion, OUT would be served with an official statement from the government and experts would have to cooperate with cross-cutting issues.
In his speech, the Vice Chancellor, Prof Elifas Bisanda, said they had received a notification letter from the Ministry of Education, Science, Technology and Vocational Training expressing the government's intention to re-establish foundation programmes at the university.
"We have submitted a proposed curriculum for the foundation programmes as part of the efforts to meet required standards set by the Tanzania Commission for Universities (TCU). Therefore, we are waiting for feedback," he said.