Activists condemn disappearance of reporter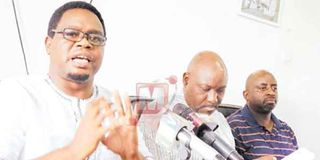 Summary
According to Mr Azory Gwanda's wife, Ms Anna Pinoni, four men driving an unmarked white Toyota Land Cruiser arrived at her husband's workplace in Kibiti at around 8am and took him away, telling those who were present that they wanted to speak to him. 
Dar es Salaam. Media stakeholders and the Tanzania Human Rights Defenders Coalition (THRDC) have issued a statement to condemn the disappearance of Mwananchi Communications Limited (MCL) journalist Azory Gwanda.
The joint statement by media stakeholders including the Media Council of Tanzania (MCT) and  THRDC was released after they had formed a sub-committee of inquiry. The condemnation comes barely a day after that by the chairman of the Commission for Human Rights and Good Governance (CHRGG).
On Friday CHRGG chairman Bahame Nyanduga urged Police to urgently launch investigations into the disappearance of Mr Gwanda that occurred nearly three weeks ago.
Speaking to The Citizen yesterday MCT executive secretary Kajubi Mukajanga said the incident was not only violation of human rights but also an infringement on the freedom of information and expression. He asked Parliamentarian to discuss incidents of people disappearances and come up with resolutions.
"We request the media to continue informing the public over the disappearance of our brother Azory Gwanda," he said.
Mr Kajubi commended MCL for the efforts it made in following up on the whereabouts of its reporter.  For his part, THRDC national coordinator Onesmo Olengurumwa said they were worried over increased incidents of people disappearance in the country, particularly, in the hands of 'unknown people'.
"Some advocates, journalists, politicians and artistes have already been reported to have gone missing as from whom there were those who were found brutally injured. Others are still missing to this day," said Mr Olengurumwa. He said they were asking the Police to provide security so they could peacefully demonstrate to the office of the Inspector General of Police (IGP) to present their arguments as well as air their grievances to him.