Azizi's money laundering charge dropped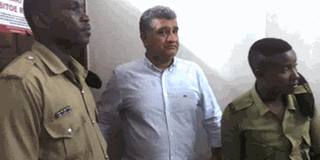 Dar es Salaam. Businessman Akram Azizi who had been charged with 75 counts of economic sabotage, including money laundering, had the charges dropped on Friday at the Kisutu resident magistrate's court.
The prosecution dropped the money laundering and economic sabotage charges that had seen the businessman remanded in prison since November 1, when he was first arraigned. Money laundering is an unbailable offence in Tanzania.
Instead, state attorneys Paul Kadushi and Simon Wankyo reduced the counts to 73, for which Mr Azizi was charged afresh and sentenced on his own plea of guilt when the matter came up for mention on Friday.
The accused businessman walked out of the court a free man after paying Sh259 million fine imposed on the 73 charges by Principal Resident Magistrate Wilbard Mashauri. Alternatively, he would have to spend 20 years in jail, according to the judgment.
Earlier, Mr Azizi was accused of illegally possessing government trophies, 70 firearms and 6,496 bullets and allegedly laundering $9,018. He allegedly committed the offence between June 1 and October 31, 2018, in Dar es Salaam. He was accused of being in possession of ivory worth Sh103,095,000 and 65 kilogrammes of buffalo meat worth $1900.
In the new charges read to him on Friday, he was accused of being in possession of 6,496 bullets without permits, 70 different types of firearms and five kilogrammes of buffalo meat.
When the fresh charges were read, Mr Azizi pleaded guilty to all of them, paving the way for his sentencing. Both the prosecution and the defence lawyer Agustino Shio agreed the accused was a first offender deserving lenient treatment. Other than the fine and jail term, the magistrate also ordered that the seized firearms be returned to the accused upon completion of a legal inspection of claims they were licenced to him and to various people.