Loans joy for diploma students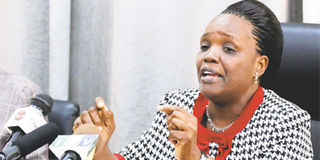 What you need to know:
Government says currently, loans are being issued only to students pursuing degree programmes, but acknowledges that the situation has left a huge demand for financial assistance from diploma students
Dodoma. The government has said it could provide loans to more diploma students in an apparent break from its position on State funding of higher education announced last June.  
Education, Science, Technology and Vocational Training minister Prof Joyce Ndalichako yesterday told the parliamentary committee on legal and constitutional affairs that the government would expand the loans spectrum to include diploma students pursuing courses of 'national priority'.
The minister appeared before the committee to shed light on part three of the Written Laws, Miscellaneous Amendments (No.4) Bill, 2016 which proposes an amendment of the Higher Education Student's Loan Board (HESLB) Act, 2004 to take diploma courses on board.
Prof Ndalichako said currently, loans were being issued only to students pursuing degree programmes, and acknowledged that the situation left a huge demand for financial assistance from diploma students.
However, she was quick to note that not all diploma students would be eligible for the loans. She said her office would, from time to time, select eligible courses in line with government's priorities.
"For instance, we are now focused on building an industrialised economy, but in practice one engineer needs to be assisted by four technicians and 16 artisans. This means even these middle level cadres are as important to the nation's development, and in order to have the required balance, the government will have to sponsor them as well. After all, all these are our children and they come from very similar background, and that is why we are proposing for these amendments," said Prof Ndalichako.
The government announced last June it would no longer provide loans to students pursuing diplomas in education (science). Prof Ndalichako told the committee since the demand was huge the government decided to widen the spectrum and not limiting it to education only.
Malindi MP Ally Saleh (CUF) said  the government should explain the phrase "national priority". He expressed concerns over the fact that it was the minister who would determine what course was important.
"We might find ourselves confused as to who should be eligible," he said adding, "Now, we hear that the government is focused on industries, but even in that area, we won't only need engineers, technicians and artisans. The industries will need lawyers, accountants."