Panama Papers name 45 Tanzanian tycoons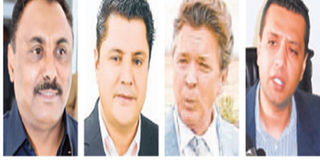 What you need to know:
The 45 are those shown in the papers as giving Tanzania as their home countries and include names of well known businessmen and some have been or continue to be politicians.
Dar es Salaam. The names of at least 45 Tanzanian businessmen emerged yesterday in the latest release of Panama papers that details the names of people and related companies with offshore accounts in territories that are known as tax havens.
The 45 are those shown in the papers as giving Tanzania as their home countries and include names of well known businessmen and some have been or continue to be politicians. Their details were captured in both the Panama and Offshore Leaks, the two sets of millions of documents stolen from the custodians of the information about the shadowy records of some of the world's mighty leaders and business conglometarates.
There is nothing in these papers to suggest wrong doing by the named Tanzania individuals but the International Consortium of Investigative Journalists (ICIJ) who published the data, say the information would help expose the secret dealings of those who keep their moneies in the offshore accounts, usually in small countries known to shield business operations from tax responsibilities.
ICIJ also says such offshore accounts have become popular for rich individuals and multinational corporations seeking to musk their operations while criminal cartels have also preferred the same tax havens to launder their proceeds of crime, including drugs and arms dealing. The same organsiation however cautions that some of the businesses revealed may be valid operations whose owners merely seek to hide their identities by using phantom names of directors and nominee chareholders in their opaque companies.
Tanzanians or businessmen operating from Tanzania and whose names appeared in the Panama and Offshore Leaks include former Igunga MP and CCM operative Rostam Aziz, Young African Chairman Yussuf Manji and Morogoro based businessman and politician Abdulaziz Mohamed Abood as well as Mr Eric Pasanisi, the famed conservator and propriator of Kilimanjaro Safaris.
In the list are also the Manji family trust, the Hassanali family and Somani family, with more than one of their members appearing in the list so far. The list is dominated by members of the Asian and Arab background even though there were also other names of colour and a one Konsel James Wambura.
Dar es Salaam was the dominant physical address sited for most of the records and the common offshore cities among the Tanzanians were shown as British Virgin Islands and Panama, suggesting these were the preferred tax havens for the local businesses.
The common offshore thread is possible as the leaked papers gave only three entities as linking the Tanzanians, namely Wheelock Holdings Limited, Richmond Finance Corporation and Expro Energy Limited.
Wheelock Holdings incorporated in 1996 in British Virgin Islands is currentkly inactive as is Richmond Finance Corporation which was incorporated in 1986 in Panama. The only active intimidairy linked to Tanzania is Expro Energy Limited that was incorporated in July 2014, also in British Virgin Islands.
There are also only three intermidiaries linked to Tanzania namely, LIERVAAG, M. NICITERETSE, ROGER and JAMES BABAN. What this suggests is that these three individuals or assumed individuals were the ones acting as figure heads of the firms that sought safe custody through the listed three offshore entities.
The other records of the Tanzanian individuals is a labyrinth of companies and shareholders and addresses spanning several cities. It was not obvious through the papers to immediately tell what kind of business this companies were invloved in, a taks that calls for further thorough investigations through the multi-layers of information and records, some of which will be difficult as they have remained inactive for several years.
Efforts yesterday by The Citizen to obtain comments from some of those who appeared in the released Panama and Offshore Leak papers were futile for most of the day before we went to press.
ICIJ database contains information on almost 320,000 offshore entities that are part of the Panama Papers and the Offshore Leaks investigations.
The data covers nearly 40 years up to the end of 2015 and links to people and companies in more than 200 countries and territories worldwide.
Big names around the world who operate secret offshore companies and accounts are on edge as more leaked papers reveals their names.
Yesterday's release came just a month after the consortium published 11.5 million documents leaked from Panamanian law firm Mossack Fonseca, detailing the names of companies, trusts and accounts used by prominent people to open and operate firms and accounts in tax havens.
The April list include various prominent leaders and businessmen in almost 200 countries, East African countries inclusively.Presidents, kings, prime ministers, high profile politicians, their associates, relatives and friends from the world over are among people who have featured in the list.
NAMES OF TANZANIANS IN THE PANAMA PAPERS
Abdulaziz Mohamed Abood,Yusuf Manji,Rostam Azizi,Hasnain Ahmed Hassanali,Mohamedraza Ahmed Hassanali,Ahmedirfan Mohamedraza Hassanali,Mr Kasbian Nuriel Chirich,Nawshad Ahmed Hassanali,Jorge Maritino,Eduardo Martino,Jacek Monlnik Rogoyski,Ms Sukaina manji,Talal Mohamed Abood,Abbas Mohammed Jessa,Narendra Vaghjibhai Patel,Zuzana Kovacicova.
Eric Pasanisi,Sajjad Mohamedhussein Viran,Suril Shah,Kalpesh Menhta,Roberta Thomaz de Mattos,Brisolla Nicholas,Charles Wilson,Seydou Kane,Konsel James Wambura,Abbas Mohamed Jessa,Abbas Mohamed Jessa,Fauzi Mohamed Abood,B.A Kotecha.
R.D Kotecha,Anil Vaghjibjai Patel,Kantaben Manibhai Chhotabhai Patel,Daniel Littman,Rosmina Kanani,Ms Aarti Puri,Andre Schmid,
kaniz Mehbub Manji,Stuart Hugh MacDonald,Rameshchandra Chotalal Somani and Mehbub Yusufali Manji.
However, names such as Mr Aziz, Jorge Martino, Eric Pasanisi, Suril Shah and Sukaina Manji have appeared more than once in the list.