Tanzanian agri-tech company wins African business prize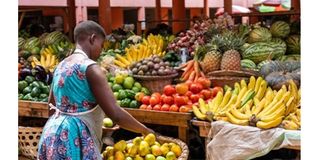 What you need to know:
Businesses from across the continent competed for a grand prize at the Africa Business Heroes 2022
Dar es Salaam. EA Fruits, a Tanzanian tech-driven food distribution company, has won the Africa's Business Heroes (ABH) 2022 prize competition.
The win is a remarkable milestone for Tanzania's SME sector and tech-enabled business space. Prior to the win, ABH had shortlisted East Africa Fruits Company Founder and CEO, Elia Timotheo, among the ten most outstanding African entrepreneurs; this was the first time Tanzania featured at the continental competition since its inception three years ago.
Up for grabs at the grand finale held in November was a $1.5 million (about Sh3.4 billion) prize pool that was to be shared amongst the winners.
As the winner of the competition, EA Fruits pocketed a $300,000 grant (Sh690 million); the first runner-up was Kenya's MarketForce Technologies, which received $250,000, while Egypt's Nadia Gamal El Din's Rahet Bally company received $150,000 for coming in third. Each of the remaining seven finalists went home with $100,000 to grow their businesses.
Speaking to The Citizen, EA Fruits CEO Timotheo said it was a great honour to compete in the ABH 2022 competition, where he got to meet so many like-minded CEOs from across the continent whose businesses are both inspiring and impactful.
"I want to emphasize that every award is unique; to me, this is a gift to the company, EA Fruits, and recognition for all of the good work done so far and in the future," he said. The ABH 2022 competition, now in its fourth year, has impacted the businesses of over 21,000 CEOs from across Africa who are working to make a difference in their communities.
"I'd like to express my sincere gratitude to the ABH organizers, notably the Jack Ma Foundation and Alibaba Philanthropy, for all of the training and encouragement throughout the journey, as well as to my fellow heroes with whom I've journeyed throughout. EA Fruits is a tech-driven food distribution company with a keen eye on smallholder farmers, with whom we work day and night to ensure fair prices for their produce, market assurance, and reduction of post-harvest losses by providing them with transport facilities from farm to market using advanced technology," Timotheo expressed.
As Tanzania's agri-tech business soars to new heights, to date, EA Fruits has served over 10,000 farmers, with customers totaling over 7,000, including retailers such as vendors and corporate customers with designations ranging from hotels, restaurants, supermarkets, and cafes. The company looks forward to expanding to other parts of the country and, hopefully, other cities across the East African Community.
But Timotheo's journey does not stop with EA Fruits; the ambition is to make food sustainability in Africa achievable through entrepreneurship and "become a shining light to other young entrepreneurs in Tanzania and Africa at large."