The beauty and ugliness of beefing to Bongo Flava showbiz
What you need to know:
From Bongo flava classic song squabbles to hiphop diss tracks and social media wars, IS BEEFING good for showbiz?
Creative differences, financial disputes, love triangles in the music industry, artistes beefing are basically never-ending.
Sometimes the bigger the star gets, more beefing his/her way.
The past few days we have witnessed matured artistes in the country turning into spit-flecked in social media and studio.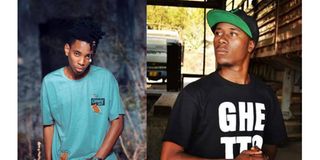 Rapper Cosmas Paul Mfoy better known as Rapcha who is under the veteran father of myanyani P Funk aka Majani recently released a disstrack called 'Story Nyingine' crushing several Hip Hop artistes, one of the artistes who was crushed is Edgar Vincent popularly as Dizasta Vina.
In that diss, Rapcha sang Dizasta on the line he says
"Shida unaniskiza huku unarembua ndo utafail. Now your whole story sounds like a stupid tale.
Swahili for 'The problem is that you listen to me with starry-eyes. Now your whole story sounds like a stupid tale"
Dizasta went into the booth and made an eight-minute bomb that he called 'Best Friend'
'Instead of complaining in every hit. Pick something else to do or choose to put the ball down'
After the diss crap back, Rapcha responded with 'Nuclear Story'.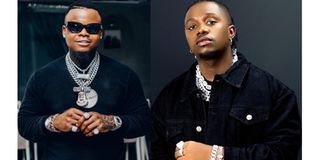 While fans are yet to grasp feud between the two vibrant HipHop artistes, former WCB signees Harmonize and Rayvanny also went loggerheads on social media. Evidently that there's a bitter beef between them.
The beef started when Harmonize throws shades on artistes to go slow on releasing booze themed songs, saying that not even those that drink daily enjoy the songs.
"Artistes should go slowly in producing alcohol songs!! Don't think that everyone in this country is an alcohol lover, even those of us that drink frequently enjoy the drinks in pain especially this January" writes Harmonize
All of a sudden, Rayvanny harshly blasts back, claiming Harmonize is jealous as he had no hit songs that talked about alcohol at all.
Saying that the 'Uno' singer was commenting on a matter he had no idea about asking him to keep off, 'You have no song on alcohol that ever hit why then do you speak regarding this'.
A vindictive Harmonize mocked Rayvanny claiming he had accomplished more than him, suggesting that Vanny Boy had to settle for less dating Paula while he was dating her mother Frida Kajala Masanja.
"Why you hate on me so bad, come to my house and I will show you how to make money, you can always even tell when I date big mama you go for the daughter," reads Harmonize's response.
In another response to Rayvanny, Harmonize says there was no need to hate on him bringing in the relationship the two had with the Kajala's.
Later, Harmonize responded by saying Rayvanny is stuck to Wasafi despite leaving the label months ago.
Harmonize went ahead to reminisce how Vanny Boy leaked photos of his manhood so that he could commit suicide, noting that he came out strong after the 2021 incident.
There is a great bad blood between Harmonize and Rayvanny. Until recently, the two only mentioned each other in their songs.
Last year the bitter rivalry had reached boiling point, with Harmonize and his former WCB involving his ex-girlfriend's daughter, Paula to a point where it involved authorities.
The good and bad of beefing to Bongoflava showbiz
It is common for people to experience hatred amongst themselves. Superstars tend to hold grudges which at times can't be hidden hence becoming known by the public.
Practically, most people see this act between celebrities as a negative impact to their art. As a matter of fact, the only thing most people will see good about beef is the interesting slams both parties involved will throw at each other.
Let's take the conflict between the most beloved Bongo Flava artistes, AliKiba and Diamond Platnumz.
AliKiba fearlessly refers to himself as the king of Bongo Flava by using the title 'King Kiba'. On the other hand, WCB boss claims that he is the most prominent Bongo artiste in Tanzania hence the title Simba.
Some says beefing attracts more fans.
"The entertainment industry is a business affair and believe it or not some artistes have allegedly been in a fake beef just to get the attention of the population and increase their shiness," note Frank Musiq, artistes' manager.
Adding that, "Man has as nature of fancying the negative vibes more than the positive and any publicity is good publicity,"
Looking during Alikiba's Mediocre song went viral after his nemesis, Diamond Platnumz gathered his WCB Crew and released 'Zilipendwa' same time.
There were people who only listened to the song because they heard it was an insult to Diamond and his crew.
Hip-hop artiste Bando Mc, says "Beef is like a ladder, you may not be asked for an airtime in Radio TV stations but through beef and diss track, an artiste earn a free airtime and every media will look out for you trying to get an interview or comment on the subject, you become a hotcake,"
Others say it's a form of entertainment, "Some of us enjoy diss tracks. People do pay to watch others fight right? Or peep through their houses to a far distance quarrel? Same as artiste beefing, we love to know what's happening," comments Prosper Samwel, a music fan.
Beefing is not the best in the Entertainment Industry but if we could just look a little bit further we could see all these advantages.
Godfrey Abel, Videographer explains that despite the attention beefing grabs, "It can affect one artiste's career. Can lead to artistes hating each other, instead of working together, beef can drift artistes and fans apart,"
Frank Musiq also agreed with that, he noted that the winner normally benefits the most while the other is left feeling and acting defeated even in public eye.
"Beefing is not the best in the Entertainment Industry but if we could only fake it for its advantages."