600 investors from Europe set sights on Tanzania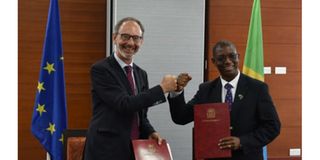 What you need to know:
Tanzania and the EU have developed very cordial relations since President Hassan assumed office in March 2021
Dar es Salaam. Over 600 investors and business leaders from the 27-member European Union (EU) are lined up for a mega business forum in Dar es Salaam next month as they seek to capitalise on Tanzania's current pro-business policies to boost investment and trade between the East African nation and Europe.
Tanzania and the EU have been enjoying very cordial relations since President Samia Suluhu Hassan came to power in March 2021.
In February last year, the President visited the European Commission (EC) headquarters in Brussels, Belgium where, during a meeting with the President of the EC, Ersula Von der Leyen, it was revealed that Tanzania would receive 425 million Euros (about Sh1.15 trillion) over a period three years to fund projects related to strengthening digitisation, promoting gender equality and green cities.
Upon returning from the trip to Belgium and France, President Hassan said in Dar es Salaam that apart from the 425 million Euros, Tanzania would also secure a €178 million (Sh464.1 billion) concessional loan for the bus rapid transit (BRT) project from France.
In March 2022, the EU head of delegation to Tanzania, Mr Manfredo Fanti, revealed that investors in the 27-member European bloc were happy with initiatives that the East African nation was taking to improve its business climate, saying the move would foster Foreign Direct Investment (FDI) inflows.
In its 2022 EU Investment in Tanzania Report 2022, the EU said in March 2022 that investors were cautiously optimistic that statements by the president would be translated into tangible actions over the short to mid-term
Going by the report, the EU's exports to Tanzania were valued at €856 million (about Sh2.1 trillion) in 2021, while imports stood at €456 million (about Sh1.1 trillion).
Some 100 companies from the EU have invested in the country, creating an estimated 151,000 jobs, according to the report that was jointly prepared by the EU Delegation and the European Business Group (EUBG).
And, speaking in Dar es Salaam yesterday, Mr Fanti said this first-ever EU business forum comes at a time when Tanzania was effectively implementing its economic diplomacy policy.
"There have been a number of positive signals from the government to the private sectors with regard to a framework for business and there are expectations for legal and regulatory reforms in order to improve the sector. We therefore thought this is the right moment to do this kind of an event," he said.
EU head of cooperation, Mr Cédric Merel said the forum responds to the strong request of President Samia Suluhu Hassan who called for more investments in the country.
"EU is branded as a global gateway. This is European strategy to increase investment in particular in Tanzania and bringing public and private money to the country's key sectors," he said.
Mr Merel said some of the key sectors to be deliberated during the forum will be agriculture, energy transition, manufacturing, connectivity, construction, digital enablers, transport and logistics, skills development, finance, and support for investment and the Public Private Partnership.
"Compared to other partners, I think we can bring major value on two things and that is the green transition because Europe is at the forefront to address challenges of climate change and the second one will be to propose solutions for the digital transition," he said.
It is expected that President Hassan will grace the two-day forum that starts on February 23.
In attendance will be senior officials from several ministries and members of the business community who will engage in the business-to-government talks (B2G).
The director of planning, research, and information technology at Tanzania Centre of Investment (TIC), Mr Mafutah Bunini said the business forum compliments government's efforts in opening up the country's economy by improving the business climate and constant strategic reforms.
"This forum offers Tanzania a great opportunity to welcome European investment, technology, and expertise to our country," he said.