Kempinski Longosa Lodge comes to Serengeti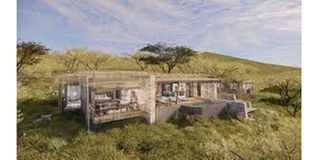 Arusha. Another luxurious lodge is under construction inside the spectacular Serengeti National Park.
The facility will add more rooms for high-end tourists who have lately flocked to the game park.
The $32 million (almost Sh80 billion) Kempinski Longosa Lodge is scheduled to open for the high tourism season in the middle of 2025.
Groundbreaking for the five-star lodge took place on Monday at Lobo on the northern fringes of the world-famous park. The afternoon event was incidentally graced by a rare downpour in the middle of the dry season, much to the excitement of those in attendance.
"Serengeti cannot be compared with anywhere in the world," said William Mwakilema, the Conservation Commissioner of the Tanzania National Parks (Tanapa).
He said the vast park, which attracts more visitors than any other, was in dire need of additional bed capacity.
He added; "We are really happy for Kempinski's stewardship. We will ensure that the project is accomplished." Mr Mwakilema said the project had been initiated in 2019 but was put off the following year (2020) after the outbreak of Covid-19.
The multi-million-dollar lodge will be owned by Helios Lodges Company Limited, owned by investors from Bulgaria.
The Dar es Salaam-based firm was established in 2018 with the aim of investing in and developing tourism and hospitality projects.
"This will be a wonderful lodge. It would blend with the surrounding environment," said Mr Valentin Zlaten, the owner of Helios Lodge Company Ltd. "It (the hotel) will cater to country-specific tourism offers. We are amazed by what Tanzania is doing to promote tourism," he added.
The high-end lodge, to be constructed on a picturesque site on a hill near Lobo airstrip, will have 75 rooms (150 beds) and employ 150 workers when completed in 2025.
The rooms will include a presidential villa, other luxury rooms, and other amenities.