New innovation to solve Dar es Salaam's flooding challenges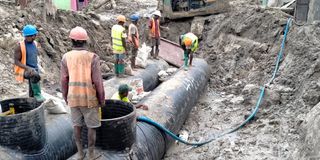 What you need to know:
Plasco are supplying around 1km of large diameter pipes, which make them ideal for channeling large volumes of water away from troubled areas thus providing much needed relief to the residents
Dar es Salaam. Engineers implementing Dar es Salaam's water management infrastructure projects have said Weholite solutions has set sites at providing sustainable alternatives for solving Dar es Salaam's flooding challenges.
UWP Consulting Company, a civil and structural engineering consulting practice that is implementing Liwiti Stormwater Drainage Phase 2 project, says that Weholite stormwater pipes are enabling the firm to implement the project in a fast, secure, and cost-effective way while improving the city's aesthetics.
Plasco are supplying around 1km of large diameter pipes, which make them ideal for channeling large volumes of water away from troubled areas thus providing much needed relief to the residents.
The system includes manhole chambers and access shafts, which will offer long-term solutions to the flooding menace.
"Implementing stormwater management systems in a large city is an arduous but not an insurmountable task thanks to Weholite solutions which are solving some of our engineering challenges," says Pieter Mare, the chief resident engineer at UWP Consulting.
Some of the challenges the technology is solvingincludesputting up infrastructure in a way that minimally disrupts the livelihoods of Dares Salaam's6 million residents. Weholite pipes are much lighter than concrete equivalents which makes transporting and handling them not only faster but cheaper and safer.
UWP Consulting additionally benefited from having a partner such as Plasco, with such experience in thistechnology. Both companies worked hand in hand with the project implementers to ensure seamless use of the technology.
"Weholite lends itself to stormwater drainage systems such as the one installed in Liwiti, due to its versatility and ability to be fabricated easily into complex arrangements that otherwise would be extremely difficult to build using traditional methods.  This is a key attribute when the system has to navigate around densely populated urban areas and a multitude of other services that are below ground."
"An added bonus is that we were able to assemble and test pre-fabricated sections at our factory in Dar es Salaam minimising the installation time on site and increasing the confidence of the customer. This was the first project completed with UWP Consulting Company and as one of Tanzania's early adopters of this technology, they have seen the benefits"says Ali Gulamhussein, Weholite Sales & Business Development Manager, Plasco Ltd.
Laying Weholite pipes is also easier as they are customized, thereby enabling engineers assemble them in a "Lego-like" manner. Additionally, solid waste is safely handled through closed sewers unlike open drainage channels.
The $56 million Liwiti Stormwater Drainage Phase 2 which is World Bank-sponsored project is expected to improve the lives of Dar es Salaam residents who are perennially affected by floods.
The 2019 World Bank report on 'Draining Dar's Economy – The Impact of Floods on Tanzania's Commercial Capital' states that boosting Dar es Salaam's resilience to floods will not only help affected households escape poverty but will also boost the city's important economic contribution to a more prosperous Tanzania.
Currently, floods directly and indirectly affect two out of five Dar es salaam residents or close to two million people with different levels of intensity.
Some wards within the city are more severely hit by stormwater flooding for a variety of reasons. In Tabata, housing construction has a severe impact on the scale of flooding. Small-scale sand mining activities take place in the Msimbazi River valley, bordering the east and southern parts of the ward, and have resulted in the widening of the river valley. Because of this, the effects of flooding have increased, specifically affecting residents and properties in Magharibi sub-ward.