NMB's Jasiri bond lists on Luxembourg Green Exchange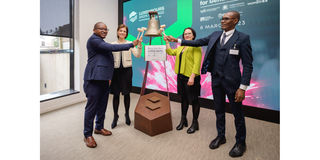 NMB Bank's Jasiri a gender bond on Wednesday, March 8, became the first sub-Sahara African bond to list on the Luxembourg Green exchange (LGE) during the launch of the Luxembourg Women in Finance Charter at the Luxembourg Stock Exchange (LuxSE).
NMB Bank, a commercial bank which was declared the most profitable bank in 2022 said the bond which was launched in March 2022, is worth Sh74 billion ($32 million).
The objective of the bond is to afford financing to women-owned micro, small and medium-sized enterprises in Tanzania, this is the first ever gender bond issued in the East Africa region.
 The trailblazing bond by NMB Bank was 197 percent over-subscribed something that the bank said it showed great appetite for gender bonds and sets a new benchmark for the continent in developing financial instruments specifically targeting women's empowerment.
Commenting on the listing Luxembourg Minister of Finance Yuriko Backes, who officially launched the Luxembourg Women in Finance Charter during the International Women's Day event said the listing was a milestone.
"This marks an important milestone for global efforts to promote gender finance and underlines the Luxembourg Stock Exchange's pioneering role in helping to drive new and emerging sustainable financial product," said Backes
Backes then added: By directing capital towards initiatives that empower women and advance their participation in the economy, the financial sector can thus support the unlocking of new opportunities for growth and innovation to help build a more equitable and sustainable future for all."
When it was launched in 2022, Jasiri bond was the first ever Bond targeting gender empowerment to be offered in the East African region.
Investors in the NMB Jasiri Bond will earn an interest rate of 8.5 percent per annum payable quarterly   throughout the three years, until March 2025.