South African investors explore Tanzania mining potential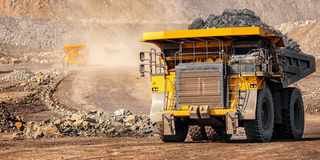 Summary
Reports indicate that growth of the Tanzania' s mining sector increased to 7.3 percent last year from 4.8 percent recorded in 2018.
Dar es Salaam. A delegation of at least 30 business people from South Africa are in the country to explore the potential of the mining sector for prospective investment.
The move comes after President Samia Suluhu Hassan visited South Africa recently to strengthen bilateral relations and open up new investment opportunities.
Tanzania commissioner of minerals Mr Abdulrahman Mwanga said yesterday that when President Hassan visited Southern Africa a few weeks ago, various issues were discussed by both countries including investment opportunities in Tanzania.
"Today foreign investors have come and we have discussed exploration, extraction, procurement and distribution of the products. Some investors who will not go directly into mining would invest in procurement and distribution," he said.
According to him, the Ministry of Minerals was delighted to see "a huge number of investors" visiting the country.
"This indicates the state of mining affairs has potential for further growth," he said.
"The mining sector has various investment opportunities; thus, it is important for local investors to grab the opportunity that is found in the sector," he added.
"Mining sector is an engine of investment. People should not doubt to invest in the sector because it is not only about extraction and exploration. There are other areas of investment, some include food products in the mining sector and expertise," he said.
Mr Mwanga noted that currently, the contribution of the mining sector to the economy is 7.9 percent. "We believe we will achieve the 10 percent target before 2025."
He noted that recently there has been a significant number of foreign investors seeking to invest in Tanzania.
Reports indicate that growth of the mining sector increased to 7.3 percent last year from 4.8 percent recorded in 2018.
South Africa Oil and Alliance (SAOGA) business development and marketing executive Mr Alain Kerr said they are optimistic that they will have a mutually beneficial pa