Prime
Telcos agree to inject Sh83.5 billion into national broadband backbone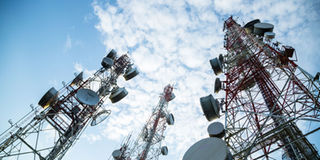 What you need to know:
The agreement sought to establish a fibre-optic cable network with 48 outlets in areas not covered by the NICTBB.
Dar es Salaam. A consortium of telecommunication companies yesterday committed to paying $33.5 million (Sh83.5) for the National ICT Broadband Backbone (NICTBB) and officially end their protracted dispute with the government.
The dispute dates back to 2011 when Airtel Tanzania (then known as Celtel), Tigo (formerly Mic Tanzania) and Zantel signed a 30-year agreement with the government through the then Communications, Science and Technology ministry.
The agreement sought to establish a fibre-optic cable network with 48 outlets in areas not covered by the NICTBB.
However, the project's implementation was marred by various challenges that required the agreement to be renegotiated.
Yesterday, the consortium and the government signed a deed of settlement and addendum of memorandum of agreement.
Vodacom Tanzania was officially admitted as the fourth member of the consortium.
Information, Communication and ICT minister Nape Nnauye said under the agreement, the consortium will pay $20 million (Sh50 billion) in the next five years.
"The consortium will also invest $13 million (Sh32.5 billion) in infrastructure development," he added.
An addendum of memorandum of agreement has also been signed to officially admit Vodacom Tanzania into the consortium.
Mr Nnauye directed senior officials in the ministry led by Permanent Secretary Mohammed Khamis Abdulla to closely monitor implementation of the agreement to prevent negligence.
"It is my hope that past experiences will not be repeated and any negligence should be dealt with decisively to prevent fresh disputes. Sometimes, wrangles are the product of failure to act immediately against misunderstandings," he said.
Mr Nnauye said telecommunication service providers should continue to invest in infrastructure development for their own benefit and that of their customers.
"The area of investment is still large, requiring collective investment in order to reach individual and national goals. The government has indicated its readiness to cooperate with the private sector and therefore you should increase investment in this particular area," he said.
Mr Nnauye reiterated the government's commitment to continuing investing in the NICTBB project and reach 99 districts out of 139 by March 2024 and all districts by 2030.
"As directed by the CCM election manifesto, the government is seeking to provide 85 percent of Tanzanians with reliable communication by 2025."
The minister said the government has reduced the cost of building broadband infrastructure from $1,000 (Sh2.5 million) to $100 (Sh250,000) in order to ensure that quality communication reaches Tanzanians.
The government has also increased the national broadband capacity from 200 gigabytes per second to 800 gigabytes per second.
He noted that the ongoing expansion aims to further boost capacity to 2,000 gigabytes per second, which is equivalent to two terabytes per second.
Mr Nnauye said yesterday's signing demonstrated the government's readiness to boost public-private partnerships (PPPs) and take communications closer to citizens in order to stimulate economic growth.
Aware of the importance of ICT, the government said it will continue to create a conducive environment for service providers and investors to set up communication infrastructure all over the country.
"I stand before you to assure you of the government's commitment to cooperating with you. As you may recall, we recently witnessed the signing of an agreement to construct 758 communication towers in order to increase and broaden communication coverage and benefit over eight million Tanzanians," Mr Nnauye said.