Winners and losers as DSE investment wealth slightly plunges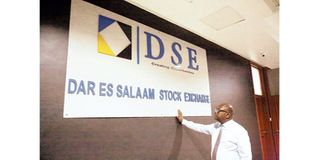 Summary
It is a bag of mixed fortunes for investors as the value of listed stocks at the Dar es Salaam Stock Exchange (DSE) slightly plunged in 2022, a year that saw record numbers of local stockholders
Dar es Salaam. The wealth of investors in the Dar es Salaam Stock Exchange (DSE) recorded a mixed direction as the bourse plunged by 0.8 percent in 2022.
The value of the listed stocks, as measured by market capitalization, slightly reduced to Sh15.68 trillion from Sh15.81 trillion but counters differed in terms of the performance.
While seven locally listed companies gained in the paper wealth, ten others lost and 11 remained unchanged for the past 12 months.
Data from the DSE shows that by the close of business in December 2022, the total market value of the locally listed firms had improved to Sh10.27 trillion from Sh9.42 trillion at the start of the year.
The seven counters in which investors increased their wealth include two top lenders - NMB Bank Plc which share rose by 51 percent to Sh3,020 and CRDB Bank Plc which gained by 41 percent to Sh395.
2022 had volatility for the stock market with rising rates, inflation and geopolitical tensions.
Local ground handling firm Swissport had a good year in 2022 as their stock price gained by 32 percent to Sh1,320 a share, reflecting recovery from Covid-19 in the aviation sector.
During the same period, self-listed DSE saw an improvement in its share price by 30.7 percent to Sh1,700 a share.
Manufacturer of industrial gases TOL Gases saw its stock price gaining by 21 percent last year to close at Sh690 per share.
Tanzania Portland Cement Company (TPCC) which also trades as Twiga Cement and Nicol had a single-digit price gain at 8.8 percent and 8.3 percent respectively.
Twiga Cement price rose to Sh3,700 from Sh3,400 a share while that of Nicol rose to Sh325 from Sh300 a share.
Chief executive officer of brokerage firm Zan Securities Limited Raphael Masumbuko said that 2022 was globally projected to be a year of recovery and growth, with central monetary authorities easing monetary conditions to support post-pandemic recovery.
"This bullish sentiment was short-lived as the Russia-Ukraine war quickly deteriorated market conditions with a runaway inflation posing risks to financial markets globally," he said.
"In Tanzania, it's noteworthy to mention that amidst the global instabilities, the domestic markets swam against the global tides," he said.
Capital markets manager for brokerage firm Vertex International, Ahmed Nganya said that one aspect that stood out in 2022 was the participation of local investors who outperformed foreign investors as the latter's participation remained subdued post-pandemic.
"Looking at 2022 market performance, investors have many reasons to cheer despite the tight macro conditions and ongoing negative geopolitical events, which have somewhat fallen short of imposing a negative imprint on the markets," he said.
Head of research and analytics from Alpha Capital Imani Muhingo said that the analysis shows that local investments accounted for 51 percent of the total investments last year, way higher than the historical average of less than 15 percent.
"Local participation is driven by increasing financial awareness of retailers as well as the return of institutional investors, specifically pension funds, into capital markets. For 2023, we expect a vibrant market and further growth when foreigners finally revive investments after recession fears wane," he said.
"We expect further growth of the Tanzania domestic share index (TSI) and equity turnover, as local investors step up ownership of domestic listed companies. This is backed by the expected growth of corporate earnings and dividends," said Mr Muhingo.
Last year's index that determine the performance of the locally listed firms, the TSI gained 323 points (9.08 percent), while the All-share index (DSEI) lost 15.51 points (-0.82 percent)largely due to negative price movements of a number of cross-listed counters.
Cross-listed firms such as East African Breweries Limited (EABL) stock price lost by 5.3 percent, KCB Bank Plc lost by 22.8 percent, Nation Media Group (NMG) by 25.9 percent, and Jubilee Holdings Limited (JHL) lost 42.6 percent.
The top losing counter in 2022 in terms of share price was TCCIA Investment Company Limited (TICL) at 55.7 percent to Sh155 a share from Sh350.
Other losers are Mwalimu Commercial Bank (MCB) at 36 percent, Jatu Plc at 29.26 percent, DCB at 21 percent, MBP at 19.3 percent, and SWALA at 8.1 percent.