Haiti's notorious gang leader that Kenyan police 'will' face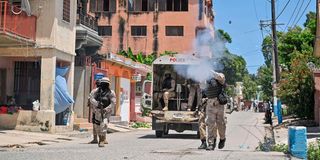 The Kenyan Government has already made it clear that it will be sending 1,000 police officers to Haiti to tackle the unchecked gang violence engulfing the country, if the UN Security Council approves the mission.
Critics, including former Chief Justice Willy Mutunga, have called the mission illegal and risky.
One gang leader known as Jimmy Barbecue Cherizer sent a stern warning to foreign countries not to step in the country. This week, he asked for Prime Minister Ariel Henry to be deposed.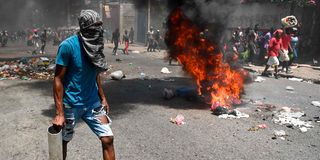 Mr Cherizer, however, doesn't identify himself as a thug, a tag he says is imposed on him by foreign entities. His gang is known as G9 which has opposed any foreign interventions, saying that foreigners are out to commit human rights abuses in the Caribbean nation.
"We will fight against them until our last breath," he said.
"It will be a fight of the Haitian people to save the dignity of our country," said Mr Cherizer, a man who says that all will be well the day PM Henry resigns from office.
Haitians were the first black majority nation to defeat slavers and colonialists in the 18thcentury. But that success also became curse. French colonialists imposed a lockdown on Haiti and forced them to pay former slave owners compensation. Since then, at least seven presidents and prime ministers have been removed from office forcibly or killed. Juvenile Moise was the last President to be assassinated in his palace in June 2021. The gunmen managed to flee the scene.
Mr Cherizer's history depicts the chaos in Haiti. A former police officer, he worked in various parts of Haiti giving him a great understanding of the country's terrain. Although gangs, as much as local security agencies, and foreign intervention forces have had a history of rights violations, Mr Cherizer has ridden on popular nationalism to cement his image as a defender of local sovereignty.
His has been use of popular defiance. One tactic included blocking a major fuel terminal in Port-au-Prince, the capital city of Haiti. The reparations to this move is pushing the country's operations to a standstill.
PM Henry enjoys western support but that has helped Mr Cherizer convince the masses that the interim Prime Minister could be a sell-out.  
The US sanctioned Mr Cherizer in 2020, accusing him of being behind a 2018 incident in which dozens of people died in Porto-au-Prince.
"These gangs, with the support of some Haitian politicians, repress political dissent in Port-au-Prince neighbourhoods known to participate in anti-government demonstrations," the US said.
The US State Department further alleged that in exchange for executing the attacks which are designed to create instability and silence the Port-au-Prince population's demands for improved living conditions, gangs receive money, political protection, and firearms that reportedly make them better armed than the Haitian National Police (HNP).
In the 2018 attack dubbed La Saline attack, at least 71 people were killed, over 400 houses destroyed, and at least seven women were raped by armed gangs. Gangs removed victims, including children, from their homes to be executed and then dragged them into the streets where their bodies were burned, dismembered, and fed to animals.
Others sanctioned include Fednel Moncherywho was the Director General of the Ministry of the Interior and Local Authorities, and Joseph Pierre Richard who was President Jovenel Moïse's Departmental Delegate at the time of La Saline. Mr Richard is accused of being the "intellectual architect" and was seen discussing the attack with armed gang members in the La Saline neighbourhood during the violence.
This week, a newly highly-trained specialised elite unit of the Haiti National Police, the Temporary Anti-gang Unit, known as UTAG, was presented to the Haitian public at the police headquarters in Port-au-Prince.
This is the group that is expected to work with foreign troops that will be heading to the country to deal with the gang.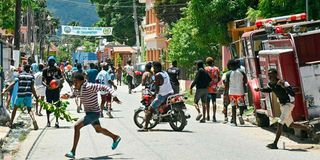 According to Kenya's Foreign and Diaspora Affairs Cabinet Secretary Alfred Mutua, Haiti had asked Kenya for its support and Nairobi could not refuse to support the Caribbean nation. He dismissed claims that they were influenced by global powers.
"It is because of Kenya's stellar performance (in other peacekeeping missions) that the Government of Haiti requested Kenya to lead a police mission to help stabilise and bring order to their country," he said.
"We assure the people of Haiti that we feel your pain. When you cry out, we feel it…Your pain is our pain. We shall stand with you at this difficult time and walk the journey towards peace together because you deserve to live a secure and prosperous life."
According to CS Mutua, apart from Kenya, more than 10 other countries had made the decision to support Haiti by sending troops to the country. The countries include The Bahamas, Jamaica, Antigua, Barbuda, Italy, Spain, Mongolia, Senegal, Belize, Suriname, Guatemala and Peru. They are expected to deploy various kinds of personnel for the mission while the US pledged to disburse $100 million to help kick-start the operations, with Canada providing technical assistance.