Ugandan pastor accused of raping Latvian national arrested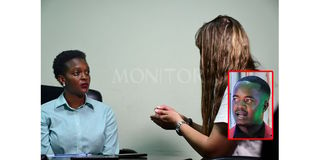 What you need to know:
The 36-year-old Latvian said Mr Twahirwa told her "he wanted to have a baby … pushed me onto the bed and raped me" on the night of December 11, 2022.
Police in Uganda is holding a pastor and three of its officers following a case in which a Latvian woman was allegedly raped and defrauded of her money.
This past weekend, Nation Media  Group-Uganda exclusively reported about the predicament in which Anda claims Joseph Collins Twahirwa subjected her to shortly after touching down in Uganda on December 11, 2022.
The 36-year-old Latvian said Mr Twahirwa told her "he wanted to have a baby … pushed me onto the bed and raped me" on the night of December 11, 2022.
Anda also recounted her torment when she tried to file a case, first, at Jinja Road Police Station and, later, the Directorate of Criminal Investigations (CID).
At the former, officers asked the Latvian to either "buy [fuel] to put in [their] car" or "to sleep with me." At CID, the officers told Anda that she was "playing with a man who has big people around."
The officers at Jinja Road Police Station, including Detective Sergeant Oyela Doreen, Detective Corporal Judith Akite, and Detective Joyce Ayeleget, were on Sunday arrested and will be charged with irregular conduct contrary to Code 12 Section 44 of the Police Act.
Mr Tom Magambo, the CID Director, told Daily Monitor that Mr Twahirwa "will be arraigned in court in the next 48 hours".   "As CID, we are doing all we can to aid the judicial process. We are the first in this line. CID [ O]DPP (the Office of the Director of Public Prosecutions), then the courts of law, and later the prisons," Mr Magambo said in an interview yesterday.
Assistant Commissioner of Police (ACP) Claire Nabakka, the deputy spokesperson of police, confirmed that a police bond that had been given to Mr Twahirwa was revoked forthwith.
She added that the pastor who ministers with Epikaizo Ministries International has since been placed in the custody of the Force.
ACP Nabakka further revealed that "the government has extended [Anda's] travel so that we can be able to allow thorough investigations."
The Latvian was initially supposed to leave the country Monday, January 16.
Police called upon all those who have similar complaints against the pastor to come forward and file reports to the CID for further investigations.
"We thank the media team that covered this story and we do pledge to continue working with you all to ensure that this case is concluded to fair justice," ACP Nabakka told journalists yesterday in Kampala, adding, "We take cases of sexual and gender based violence seriously and we do pledge to professionally handle this and any other cases that may be reported."
Anda's case has put the reputation of police officers on the line as much as pentecostal pastors. When the Latvian tried to file a case at Jinja Road Police Station, it is alleged that the police officers joined Mr Twahirwa's followers in tormenting her.
Anda says that her phone was grabbed and all communications she had with Mr Twahirwa on social media were deleted in an attempt to destroy evidence of their interactions. Before, the officers at the station had allegedly forcibly removed shoes from her feet and roughed her up before locking her up in a cell.  She was later released and ordered to withdraw the case against Mr Twahirwa.
In our last conversation with Anda, she expressed fears that her life was in danger following her first interview with us. A black car with red plates had been trailing her. The State has since secured her and given her a protection detail until the time of her departure.