Diamond's ex-flame Zari gets married in private wedding in South Africa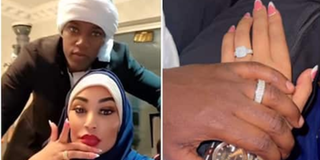 Diamond Platinumz' former flame Zari Hassan is officially off the shelf after she tied the knot with 30-year-old Shakib Lutaya on Sunday April 16.
The two lovebirds have dating for over 10 months.
The Ugandan socialite and her partner Shakib Lutaaya, tied the knot in a private Nikah ceremony in Pretoria, South Africa.
Both Zari and Shakib shared photos and videos on Snapchat, and some of her relatives, her elder brother and sister, were present.
"Happy is the man who finds a true friend. Congrats the Lutaayas," Shakib captioned one of the pictures.
The lovebirds made their relationship public in May 2022, and the mother of five flew to Uganda to meet Shakib's family in the tail end of last year.
When the relationship became public Zari was quoted telling off critics who criticise older women for dating or marrying younger men.
She wondered why people never talk about older men marry young women, which according to her is all about double standards.
In December 2022, Shakib was exposed of cheating on his wife Nalule Shamirah Sembatya.
Shamirah shared photos of their wedding certificate to prove that they were legally married in 2016. The lady also shared a US visa she processed for Shakib, in 2017, inviting him to visit her.
Zari denied that she was a husband snatcher and branded Shamirah a clout chaser.'
Responding to claims he was still legally married to Shamirah, the 30-year-old Ugandan shared photos in a jacuzzi, telling fans to ignore what they see on social media.