Diamond, Zuchu, Harmonize and Nandy emerge top artists in Boomplay Recap 2022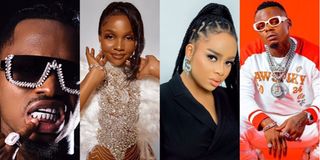 Summary
The year 2022 saw six Tanzanian artists join the Boomplay Golden Club, with the country having the second-highest number of artists after Nigeria
Dar es Salaam. As we wind up 2022 which has been a great year for Tanzania's music industry, witnessing the rise of various emerging acts, artists pushing beyond the norm to reach greater heights and gaining international recognition.
The year which saw six Tanzanian artists joining the Boomplay Golden club with the country being second to have a lot of artists after Nigeria.
In closing out the beautiful year in music, Africa's number one music streaming and download service, Boomplay, has released its much-anticipated annual recap 'The #BoomplayRecap2022'.
The recap provides an overview of music consumption and insights into listeners' musical tastes and preferences for the year. Also, it enables fans and subscribers to discover their personalised lists of top songs, artists, albums, and genres.
Boomplay Recap presents data and insights into music consumption and engagement on Boomplay reviewed under a specific period. It profiles and segments music data by country, artists and users and, by doing so, provides an actual reflection of music listenership and engagement habits of local music industries in Africa.
The authenticity and relevance of Boomplay's data and charts as the accurate picture of music consumption are based on Boomplay's user base, which is largely the lower and middle-class demographic, the largest population segment on the continent.
Thus it is more inclusive and captures the on-the-ground music taste and habits of music consumers. Streaming on Boomplay grew in 2022 by 248%, buoyed by its 88 million monthly active users and a record increase in Boomplay's catalogue to over 90 million songs.
For the year 2022, Boomplay Recap by country highlights categories including Top Male Artists, Top Female Artists, Top Booming Artists, Most Streamed Songs and Albums, among others, while Recap for Artists shares 2022 stats of individual artists, including the Total Streams, Hours Streamed, Listeners, Most Streamed Song and Most Streamed Countries.
On the other hand, users on Boomplay (Boombuddies) will have access to personalised results of their music consumption and engagement on Boomplay through the users' recap which highlights their 2022 music journey by revealing details such as the number of songs they listened to, their top genres, discoveries, top artists, songs they had on repeat and many more interesting personal insights.
Spotlighting some facts from the Boomplay Tanzania Recap,  Diamond Platnumz, Harmonize and Marioo are the top three most streamed male artists as featured in the 'Top Male Artists' category while their female counterparts, Nandy Maua Sama and Zuchu who has held the number one spot for three years now in a row.
Jay Melody's Nakupenda is the most streamed song on Boomplay for this year. Marioo's single 'Naogopa' featuring Harmonize grabbed the second spot while Alikiba's 'Utu' grabbed the third spot.
Komando wa Yesu leads the most streamed Gospel Song in 2022 with his single 'Yamebadilika' Neema Semfukwe is second with her single 'Ndio' while Mathias Walichupa's Ni wewe grabbed the third spot. It's worth noting that 'Ni wewe' has appeared in the category two times in a row now.
Tanzania's booming stars of 2022 who have had a phenomenal year of growth include; - Jay Melody, Marioo and Phina with each releasing singles that have garnered over 10M streams. Jay Melody's 'Nakupenda' stands at 44.5M, Marioo's Mi Amor at 32.7M and Phina's 'Upo Nyonyo' at 10.8M.
Some other facts from Tanzania's 2022 listenership data, Tanzanians' favourite song on the first day of 2022 is Diamond Platnumz's 'Unachezaje'. On Valentine's Day of 2022, Zuchu's Mwambieni was the most streamed song. The most loved song in the morning is Christina Shusho's 'Shusha Nyavu' and late night favourite song of 2022 is Marioo's Mi Amor the Acoustic version.
Boomplay has been at the forefront of Africa's music streaming revolution. It has resolved to use strategic partnership and development initiatives to empower Africa's digital music ecosystem to realise its potential. Recent partnerships with France's Generations Radio and telecommunication company, TIGO in Tanzania are moves towards the progress of the streaming culture and legal music consumption while expanding the reach of artists globally and helping Tanzania's music industry to be more viable and beneficial to all stakeholders.