Harmonize, Zuchu set for a showdown in Kenya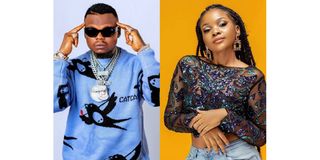 What you need to know:
The Sukari hitmaker will perform On December 10, while Konde Gang boss Is set for December 9 to 12.
A concert in December is set to bring Harmonize and Zuchu together.
The two have in the past had a spat that created beef between them, and they will this December be entertaining their fans in nearby venues in Eldoret, Kenya.
Zuchu and Harmonize are expected to perform in nearby venues in Eldoret, and everyone is looking to see who between the two will earn the fans' attention.
The 'sukari hitmarker' is set to perform at an undisclosed venue in Eldoret on December 10, while Konde Gang Bozz and Harmonize will join a list of Kenya's local and regional artistes who will perform at Base Yetu's Shujaa concert that will run from December 9 to December 12 in Eldoret's Tamasha Lounge.
The anticipated concert will also have a competitive pool tournament where the winner will walk away with Ksh1 million (Sh18.92M) on top of the great entertainment lined up and dope performances from Zuchu and Harmonize.
Fans are excited to see the two musicians, with the majority of them wondering who will fill their venues between them.