Sauti za Busara opens new chapter bids farewell to founding director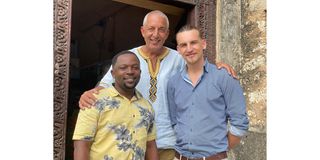 Busara Promotions NGO and its globally renowned annual music festival has named a new leadership after the founding director Yusuf Mahmoud called time on what has been a stellar 20 years at the helm.
With his departure, Lorenz Herrmann, a German cultural entrepreneur, musician and arts manager who has lived in Tanzania since 2016, will take over as Managing Director.
He will work closely with Journey Ramadhan, a Tanzanian who worked as a manager with the event since 2009, and now takes the reins as Festival Director.
Yusuf Mahmoud, 61 said the time has arrived to hand over to younger leaders, with more stamina and fresh ideas to push the festival to new heights, saying he is proud of the organisation's achievements.
"When we established Busara Promotions in 2003, one of our plans was to host an annual festival in Stone Town, showcasing the wealth and diversity of music from East Africa and the Swahili-speaking region. Little did we expect the festival to become a pan-African event that is now one of the most respected music events on the Continent, attracting thousands of visitors to Zanzibar every year in February," Mr Mahmoud said.
Yusuf will now continue working with Busara, as a member of its governing Board of Trustees. He said that with core-funding support for the organisation assured for at least two more years from Fumba Town, a project by property developer CPS, this is a sensible time to handover.
Commenting on his new appointment, Lorenz Herrmann said his strong background in arts management, combined with passion for promoting cultural diversity and supporting artists and his strong network in the corporate and cultural sector gained from seven years' working in Zanzibar, aligns perfectly with Busara Promotions.
" I believe that music and arts have the power to bridge differences, foster understanding, and promote positive change in society. I am committed to upholding these values and driving the impact and professionalism of the festival to new heights."
The 21st Sauti za Busara edition, which is set to take place from 9 – 11 February 2024, is sponsored by Fumba Town - a project by CPS, Ignite Culture, Zanlink and more to be confirmed.
African musicians interested to participate are invited to apply online via the festival website until 31st July 2023.