US VP Harris to tour Africa amid growing China, Russia influence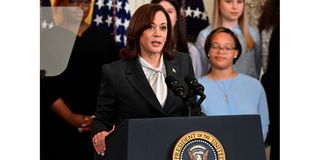 What you need to know:
The tour is part of Washington's pushback against Chinese and Russian involvement in Africa.
The trip will also help burnish her foreign policy credentials ahead of Biden's second term bid.
Debt relief, democracy, economic growth, food security and impacts of Russia's war in Ukraine to be discussed.
US Vice President Kamala Harris will start a three-country tour of Africa this weekend, promoting the white house's positive vision of the continent as the "future of the world."
Harris' trip to Ghana, Tanzania and Zambia is the latest salvo in deepening US engagement with a continent largely ignored under former US president Donald Trump and long viewed in Washington as more of a problem area than a land of opportunity.
"We want to dismantle long held and often outdated notions of what it means to live, work and invest in Africa," an anonymous senior US official told reporters.
"Harris believes African innovation and ideas will shape the future of the world," said the official.
US concerns over China
The tour is also part of Washington's pushback against growing Chinese and Russian involvement in the resource-rich continent, with US officials touting what they say is the more positive US message.
"It's no secret that we are engaged in a long-term competition with China," a senior US official said.
Citing "real concerns" about China's use of loans to gain control over weak economies in Africa, the official insisted the US is not trying to copy their methods.
"Our relationship with Africa cannot and should not be defined by competition with China," he said, proclaiming an "affirmative agenda in Africa" that leans on public-private partnerships and transparency.
Personal history
Preceding Harris, who on Sunday lands in Ghana for the first stop, have been trips to Africa by five of President Joe Biden's cabinet secretaries and US First Lady Jill Biden.
The vice president's journey, which will take her to Tanzania on Wednesday, then Zambia on Friday, has a special poignancy. She is the first Black person and woman ever in the white house number two job. In addition, she visited Zambia as a young girl when her maternal Indian grandfather worked there.
The trip will also help polish her foreign policy credentials, ahead of what is expected to be Biden's bid for a second term in office with her again at his side.
Harris is due to meet with Ghana's President Nana Akufo-Addo, Tanzania's President Samia Hassan as well as Zambia's President Hakainde Hichilema. 
Topics to be discussed
Topics will include debt relief, democracy, economic growth, food security and impacts of Russia's war in Ukraine.
A senior official said the Biden administration recognizes the "strategic importance" of Africa in global issues including climate change, supply chain resilience and also as players in the UN.
A big overall focus for Harris on her trip will be youth in this rapidly growing continent, where the average age is just 19 and where an estimated one in four people in the world could be living by 2050.
Highlights will include a "major speech" to young people in Ghana and a visit there to Cape Coast Castle, once a slave trading hub. Further stops will include meetings with tech entrepreneurs, digital sector leaders and groups advancing women in the economy.
In a reminder of the deep-rooted and ongoing unrest involving extremist Islamist groups, Harris will lay a wreath to commemorate the 1998 bombing of the US embassy in Dar es Salaam, Tanzania.