Turkey 'not in a position' to ratify Swedish NATO bid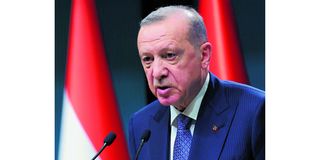 Turkey said Saturday it was "not in a position" to ratify Sweden's NATO membership, despite a series of steps taken by Stockholm to meet Ankara's demands.
"We are not in a position to send a (ratification) law to the parliament," President Recep Tayyip Erdogan's foreign policy adviser Ibrahim Kalin told reporters.
Sweden and its Nordic neighbour Finland dropped decades of military non-alignment and applied to join the Western defence alliance in response to Russia's invasion of Ukraine last year.
Turkey and Hungary remain the only NATO members to have still not ratified the bids by votes in parliament.
Ankara argues that Sweden, in particular, has failed to fulfil a series of commitments both countries made at a NATO summit in June.
Erdogan then lifted his objections to their applications in return for pledges to crack down on Kurdish groups that Ankara views as "terrorists".
Sweden has since approved a constitutional amendment that will make it possible to pass tougher anti-terror laws.
But Kalin said it will take at least until June for Sweden's parliament to vote through the measures, and that Ankara would wait for all the Swedish legislation to pass before it acts.
"It will take (Sweden) about six months to write and pass the new laws," Kalin said. "They will need a bit more time."