Central bank's new warning to 'rogue' lenders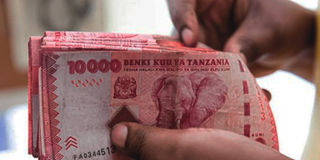 Summary
The Bank of Tanzania has moved to compel all lenders to be licensed as part of efforts to create a level playing field and protect the rights of borrowers and lenders alike
Dar es Salaam. The Bank of Tanzania (BoT) has moved to compel all lenders to be licensed as part of efforts to create a level playing field and protect the rights of borrowers and lenders alike.
In its circular issued last week, BoT warned unlicensed individuals, institutions and companies lending money, saying they risked being fined not less than Sh20 million or spend not less than two years in jail or both.
"Lending by these unlicensed companies or individuals is against Section 16 (1) of the Microfinance Act 2018," the circular says.
In order to avoid being defrauded or suffering any other consequence of obtaining informal credit and to maintain stability and public trust in the banking system, BoT urged the public to exercise caution and use the services of formal institutions only.
According to the central bank, Tier Two microfinance service providers will start business and maintain a minimum capital of not less than Sh20 million and maximum capital determined by the regulator.
Currently, going by BoT's register of Tier Two microfinance service providers (made under section 54 of the Microfinance Act), there are 760 registered microfinance service providers in the country.
Tanzania Association of Microfinance Institutions (Tamfi) vice chairman Altemius Millinga yesterday welcomed strict enforcement of the law, saying it would elevate the status of microfinance institutions by formalising them and promising better stability and security in the sector.
He said formalisation of microfinance would help them to access loans from big banks and lend more to their customers.
"This is also likely to boost financial inclusion in Tanzania as it encourages lenders to properly maintain their books and other relevant documents," he told The Citizen by telephone.
Strict enforcement of the law, Mr Millinga added, would ensure moneylenders act in the best interests of their customers.
"Formalisation of lending businesses is the most effective way of reducing unforeseen dangers and protecting consumer rights," he said.
An economist from Mzumbe University, Prof Aurelia Kamuzora, said the licensing of all lenders would protect the rights of both consumers and lenders.
"This will protect consumers, who are being exploited through sky-high interest rates. It will also protect lenders when they face hardships in debt collection," she told The Citizen yesterday.
Speaking last week in Mwanza, BoT governor Florens Luoga expressed his wish to see financial institutions charging interest rates of not more than nine percent.
Prof Luoga said interest rates currently hovered around 11 and 13 percent, with analysts saying the situation was even worse with loans issued through unregulated microfinance.
Unregulated moneylenders issue small loans, over short periods, but charge unrealistically high interest rates.
This means that using a moneylender is one of the most expensive ways of borrowing money, and the sub-sector needs to be formalised to protect borrowers.
"Moneylenders play an important role in society for people who can't access alternative forms of credit," said Prof Kamuzora.
"However, at the same time, they have a duty to lend responsibly and treat their customers fairly."
Prof Kamuzora cautioned that unregulated microfinance was unhealthy for the country's economy as it denied government revenue.
The economist from the University of Dodoma, Dr Lutengano Mwinuka, cautiously welcomed the plan to ensure that all moneylenders are licensed.
He was of the view that the government should first create a friendly environment, otherwise many businesses might find it challenging to comply with the directives, and thus exit the market.
"Licensing all moneylenders is a good idea, but it should be executed gradually," Dr Mwinuka said.
"We should start by identifying them and build their capacity before formalising them."
The microfinance sector, including savings and credit cooperative societies (Saccos) and other informal financial groups, serves a big section of the population looking for financial services, but which does not have access to formal banking services.