Minimum capital for lenders up to Sh15 billion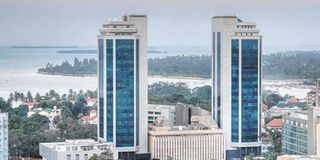 Summary
Parliament amends the relevant law to raise the minimum capital required to set up a financial institution to Sh15 billion, with the government saying the decision is meant to empower BoT to effectively monitor capital adequacy
Dar es Salaam. The government is raising the minimum amount of capital required for establishing financial institutions.
The move seeks to empower the Bank of Tanzania (BoT) to effectively monitor capital adequacy among players in the sector.
Through the amendment of the Banking and Financial Institutions Act, Cap 342 made by Parliament yesterday, the minimum capital for establishing a financial institution will be Sh15 billion.
"This is meant to empower the BoT to effectively set capital adequacy levels for all financial institutions," Attorney General Eliezer Feleshi told the House when he tabled the Written Laws (Miscellaneous Amendments) (No.3) Bill, 2022 for debate.
He said the amendment would enable the BoT to ensure that financial institutions had adequate capital levels that were in line with international best practice.
Currently, Dr Feleshi said, the law classified capital adequacy levels by looking at risks on loans and in the market, with other risks not being considered.
"Due to these shortcomings, the current law does not facilitate the evaluation of the actual capital of a bank, or a given financial institution," he observed.
According to the Banking and Financial Institutions (Capital Adequacy) Regulations, 2014, a bank shall commence operations with and maintain at all times a minimum absolute core capital of Sh50 billion for development finance banks.
The minimum sum required for setting up a merchant bank is Sh25 billion, while for commercial, cooperative (nationwide network) and Islamic banks, it is Sh15 billion.
For a microfinance bank, the minimum capital required is Sh5 billion, while Sh2 billion is required as capital for the establishment of a community bank.
The new amendment will therefore affect those seeking to establish microfinance banks and community banks only.
Parliament's Constitutional and Legal Affairs Committee welcomed the amendment.
Committee chairperson Joseph Mhagama, said the new capital conditions would help to strengthen banks' and other financial institutions' capital and liquidity.
This, he added, would help small-scale financial institutions to weather challenges and reduce the possibility of their affecting the economy.
Dr Mhagama added that the new conditions would increase the security of customers' deposits.
"This, in turn, will increase financial institutions' capacity to encourage customers to entrust their savings to them," he said.
Mr Noah Mollel (Arumeru West-CCM) said the Bill would broaden the scope of loan issuance.
"The proposal of Sh15 billion as minimum capital for a financial institution will help to create a strong financial sector," he said.
Ms Agnesta Kaiza (Special Seats-Chadema) said, however, that the proposal of Sh15 billion was too high for microfinance institutions to afford.
"This will automatically kill the existing microfinance institutions, which play a pivotal role in helping the poor when it comes to loans," she said.
Ms Kaiza added that minimum capital of Sh15 billion should apply to big banks only.
But Dr Feleshi said there was nothing to worry about.
"It's important to set rates that meet international standards. Doing this will actually help microfinance investors to grow," he said.